We're back to the league after a two-week international break. This is a huge game, against a tough opponent in a tough stadium. It is arguable whether the team is at the right level/stage to get something from this game. However, this game is a huge opportunity. A good result from this game will show that the team is on the right track. Last time we did it against Atletico and away from home? 9 seasons ago with Unai Emery.
Atlético sit just 3 points above Valencia in the league. A win will put Valencia level. They find themselves at 4th spot while Valencia is at 8th. Atlético are tied for least goals conceded in the league but are struggling in terms of goals scored.
Atlético form: DDWDL
Valencia form: WWDDL
LINEUP
Celades will have to address two things with the squad. First, the psychological effect from a possible Alemany sacking. This is in terms of stability of the club in the eyes of the players. Second, the physical effects from the international break. Which Atlético obviously have to deal with as well.
For Valencia, this will leave the team without both Rodrigo and Guedes. They both scored for their respective national teams but they suffered minor injuries that will leave them out of this game.
On the other hand, Valencia does recover Gameiro, Kondogbia and Carlos Soler, which will be a big boost. Gaya has recovered but not 100% and as such was left out as a precaution, so we can expect Costa to start. Reports also said that Mangala was in some sort of recovery program of some sort, not sure what the issue is. Academy goalkeeper Rivero makes the lineup for the first time as well.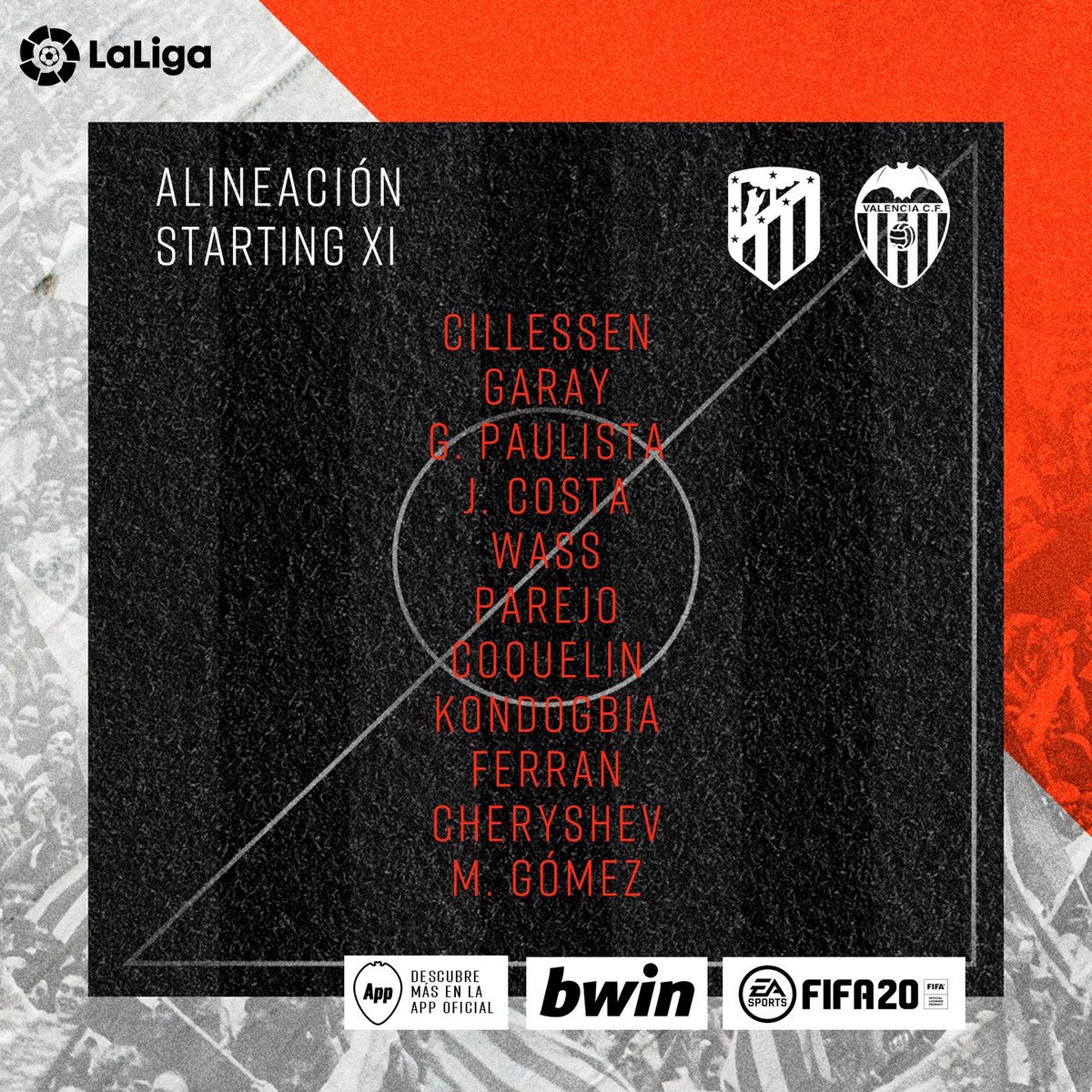 Lineup looks similar to what we have seen in the past few games at least in goal and defense. Kondogbia is immediately restored to the midfield after his recovery. Coquelin retains his spot though. Celades appears to value both of their presence in this physical game against Atletico. We have a 4-3-3 with Coquelin and Kondogbia in front of the defense, Parejo further forward. Cheryshev and Ferran start on either side of Maxi Gomez.
Bench: Jaume, Rivero, Correia, Diakhaby, Soler, KangIn, Vallejo
MATCH
10' - Pretty even game thus far, both sides appear slightly cautious, no clear chances.
14' - Ferran with a decent cross for Kondogbia following a short corner but it's cleared.
15' - Cheryshev with a wonderful cross for Ferran, but Ferran just misses it with his head. Surely would've been a goal.
18' - Chance for Atletico as Diego Costa chests down a cross and set up Saul who fires from outside of the box, but it's just wide.
20' - Joao Felix with a through ball for Morata but it's hit straight at Cillissen.
21' - Atletico shot deflected off of Jaume Costa straight to Diego Costa inside the box. His shot is wide.
27' - Coquelin gives the ball away in midfield and sends Atletico on a dangerous attack led by Morata. He plays the through ball for Diego Costa but the run was mistimed. It's cleared but would've been offside regardless.
28' - Thomas Partey is booked for a challenge from behind on Maxi Gomez. Yellow card.
30' - Thomas with a giveaway at the edge of the box. The ball falls to Cheryshev, who fires a powerful low shot that is saved by Oblak but he spills the ball and has to stop it from going out.
32' - Arias plays in Joao Felix in a wide position. He plays the ball across goal towards Morata but he cannot make contact. Dangerous chance.
34' - Arias's cross is hit towards Cheryshev who shields his face with his arms. VAR reviews and gives a penalty. Unfortunate. Diego Costa steps up to take.
35' - 1-0. Diego Costa slots it past Cillissen. The goalkeeper went the other way.
38' - Cheryshev's misfortune continues with a booking after a challenge on Joao Felix. Yellow card.
44' - Joao Felxi booked for a challenge on Parejo. Yellow card.
HALF-TIME: Valencia has struggled in the majority of that half. Chance after chance for Atletico were kept at bay and then a penalty gets handed to them cheaply. Valencia had a few chances but couldn't capitalize. Rodrigo's absence is showing in offense. Not for goal scoring but as a director to link up play, distribute the ball quickly and making space for Maxi Gomez. Gomez seemed completely isolated this game with the team launching crosses and long ball to attempt to get him into the game but the Atletico managed to control it.
46' - Costa with a decent cross but it's cleared by the Atletico defense. Corner for Valencia. Cleared again by the defense.
48' - KangIn, Soler and Gameiro are seen warming up.
50' - Joao Felix playing a dangerous game with another challenge, this time on Jaume Costa. He is on a booking already.
52' - What a chance. Parejo with a great through ball for Maxi Gomez who draws defenders wide, he sees the run of Cheryshev plays a great ball for him and Cheryshev hits the crossbar. This should've been a goal.
54' - Substitutions for Atletico. Partey off, Lemar on. Hermoso off, Lodi on.
56' - Free kick from Valencia sent by Parejo over everyone and out of play.
57' - Coke with a freekick, picks out Diego Costa wide, who heads it across goal to Jiminez. He couldn't hit the target.
59' - Atletico given a non-existent free kick in a dangerous position for an apparent challenge on Joao Felix from Parejo. Replay shows absolutely no contact. Lemar fires but it's an easy one for Cillissen.
64' - First substitution for Valencia, Kondogbia off, Gameiro on. It's back to a 4-4-2.
67' - Final change for Atletico. Morata off, Llorente on.
70' - Cheryshev plays a cross into outer space. Unusual game from him.
71' - Soler is Celades's second substitution. Ferran Torres is brought off.
73' - Arias with a long run from defense, a slight cut in, and a shot from distance. Hit straight at Cillissen.
76' - Cheryshev with a slick back-heel flick to Costa. Atletico bring him down for a free kick. Parejo plays a strange on to Wass but he cannot strike the ball under pressure from the Atletico defense.
77' - Final change for Valencia, Cheryshev off, KangIn on.
78' - Joao Felix plays a through ball sending Arias through in loads of space. He makes a run into the box, squares the ball but it didn't find any of his teammates.
80' - Joao Felix is limping off the field of play, assisted by the medical team. Atletico down to ten men with no substitutions. Soler is taken down in a dangerous position outside the box.
81' - GOAL! 1-1! Valencia with a free kick and Parejo hits it beautifully. Over the wall and into the top right-corner. Oblak with no chance.
83' - KangIn and Gomez keep the ball in the Atletico box and the latter picks out Parejo and the edge of the box. He fires a great shot at goal but Oblak gets a hand to it. Dangerous. Atletico struggling with a man down.
89' - KangIn gets booked for a challenge on Arias to stop a dangerous attack. Play is waved on as an advantage but referee books with a yellow. VAR reviews and changes the decision to a red card. It's 10 men for both sides now. Studs were up.
90' - Five minutes of added time.
FINAL THOUGHTS
It was a game of many errors. Many chances and many misses. At the end, no goal from open play. Both came from set pieces, one penalty and one free kick.
Some players were not on their game. You can make a strong case that if Cheryshev had a better game there would be no handball and he would've scored that great chance. That alone would've made a difference. Ferran was making sloppy crosses as well and seemed physically drained. There were no bursts of energy on those forward runs either. Coquelin didn't have a good game either. He gave away possession and had some bad passes.
It was great to see Celades acknowledge that his game plan wasn't working and make the suitable adjustments to return to the 4-4-2, under which the team performance improved having initially struggled. The team stepped up even further after Parejo scored that sublime free kick and Felix was taken off due to injury leaving Atletico at 10 men. Valencia tried to press home the advantage and had dangerous chances. it all ended when KangIn made a rash challenge and got sent off, evening the game again.
Soler seems like he's still easing into the game. The passing was there but the energy is something he will bring later on as he gets back into the game.
All that being said, a draw against Atletico at the Wanda Metropolitano is a great result. They are a well established team with a stable system and if you had given Celades a draw before the game he would've taken it.
Hopefully next game we recover Rodrigo, Guedes and Gaya. They will boost this team even more. With full choice, we can see what Celades can do with the full squad and his preferred lineup when all players are available.
Speaking of next game, we return to the Champions League where Valencia travel to France to play Lille. Another away game. Valencia sit 3rd in the group table with 1 win and 1 loss, tied with Chelsea on points. They lead on goal difference though. Last game against Ajax was a night to be forgotten and the team needs to make a comeback. Chelsea and Ajax play each other so Valencia have a chance to go second with a good result.