Matchday 8 sees Valencia play at Mestalla against Deportivo Alaves. Valencia had a tough match midweek in the Champions League, in which the result and performance were both far from acceptable. In La Liga though, the last match was an unexpected hope as Valencia secured an away win against well-performing Athletic Bilbao.
This is yet another chance to show resilience by recovering and putting on a good performance at home. Deportivo Alvaes find themselves in a similar position in the table to Valencia. They sit just one point below (8) and four positions below (15th) Valencia. They will surely see this as a chance to overtake Valencia in the league.
Celades has had six games in charge so far. Two wins (Chelsea and Athletic Bilbao), two losses (Barcelona and Ajax) and two draws (Leganes and Getafe). Half of these games were low-scoring affairs, while the other half there were many goals scored and/or conceded. Valencia will be looking to secure their first home win of the season under Celades.
Valencia La Liga form: WLDDW
Deportivo Alaves La Liga form: DLLLW
LINEUP
The lineup features only one change from the game midweek against Ajax. Guedes returns to the bench and Cheryshev is called back into the lineup.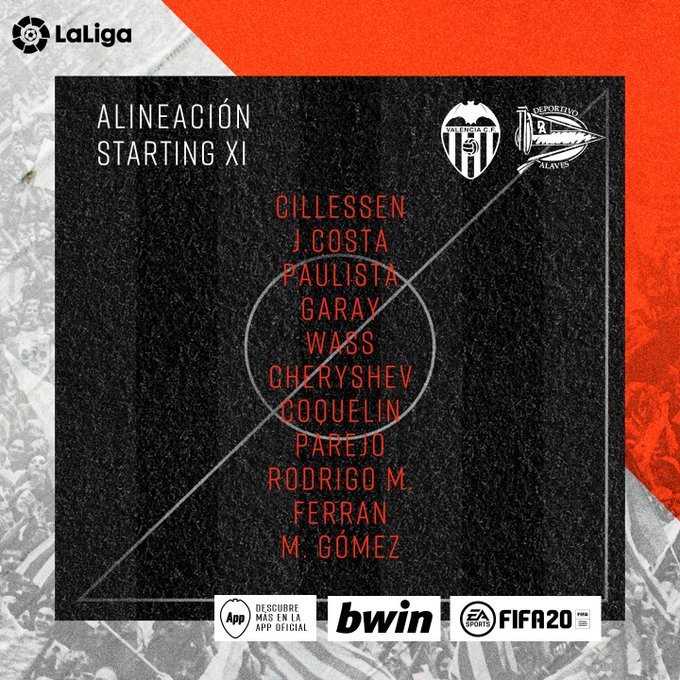 The defense really need to show the effort today as it was very lacking last game and left a lot to be desired. As for the forward line, the movement and spaces were there last game but the finishing was a let down. As usual, Parejo and Rodrigo are expected to link up play and pick out the key passes.
Bench: Jaume, Diakhaby, Correia, Kang-In, Guedes, Sobrino, Vallejo
MATCH
10' - Rodrigo with a good chance with a header, but hit directly at the keeper.
14' - Yellow card for Valencia, Daniel Wass is booked.
15' - Double booking for Alaves, Garcia and Duarte both shown yellow cards.
21' - Early subsitution for Alaves, Pons comes on for Pina.
25' - One-two between Alaves players at the edge of the box results in a shot that it is just high over the Valencia goal.
26' - 1-0! GOAL for Valencia! Rodrigo receives the ball in midfield from Parejo, he directly thread it through on his first touch to Maxi Gomez, who control well, times his shots, and slots it past the keeper! It's his 4th goal of the season. He is now our top scorer in La Liga.
28' - Alaves try to respond quickly. Coquelin is dispossessed with a challenge leaving him on the ground, the referee waives the play to go on, Alaves play the ball to the right inside the box. The player fires but Paulista blocks the shot with a sliding tackle. Good defending from Paulista. Corner kick Alaves.
30' - Corner is headed wide by the Alaves player. Diakhaby is warming up as a precaution due to concerns about Coquelin following the earlier challenge to him.
33' - Long ball from Garay falls to Ferran who chests it down for Rodrigo out wide, he controls well, plays the ball through to Maxi Gomez who fires at a tight angle to the goal. The keeper can only block, sending the ball back into play, Maxi attempts to regain possession but is taken down. VAR is checking this for a possible penalty after significant delay. Nothing in the challenge, referee waives play on.
38' - Parejo loses the ball dangerously at the edge of the area after being dispossessed from behind, the subsequent cross if fortunately cleared by Garay.
40' - Rodrigo is showing great vision and passing today. Play is going smoothly through him, he picks out passes first time, without wasting time.
42' - Rodrigo with a great chance following a corner. He clashes heads with an Alaves defender, the ball flies up, he chests the ball down and fires, but it's just wide. That needs to be a goal. Rodrigo's face is now really swollen around his right eye from the clash of heads.
45' - Four minutes are added by the referee for stoppages.
45+2' - Great build up by Valencia, smooth passing, a dummy from Rodrigo, he plays it wide, recieves it again, he takes out the defender with a great turn, makes a run forward drawing the defenders. Cheryshev is screaming for the ball having been freed up from his defender and sitting in loads of space. Rodrigo takes on a difficult shot and it's high and wide. Cheryshev is furious, screaming and slamming the ground. Rodrigo yells back.
HALF-TIME: Valencia clearly has the upper edge this game. Alaves is simply chasing the ball and the few chances they had were from mistakes from Valencia rather than skill from Alaves. Maxi Gomez and Rodrigo linked up well to put Valencia into the lead. Rodrigo contributing a lot by dropping back and assisting in build up. He could've had a goal of his own with a header in the early parts of the half. In the final few minutes, he was brilliant in build up with a dummy and a turn that set up a great chance but he got too selfish and didn't pick out Cheryshev who would've surely been through on goal and possible scored. He was absolutely furious.
47' - Valencia frequently opting for the long-ball. They draw out the Alaves players by passing across and then play a long ball into space for the forwards and wide midfielders to run into. Ferran is picked out with such a long-ball, and has to be brought down after he gets away from the defender. Parejo's free kick misses everyone.
48' - Free kick for Alaves on the other side. Garcia makes contact but Cillissen saves.
52' - Alaves with increasing chances. A through ball takes out Wass and the shot is fired from a tight angle, but saved by Cillissen.
55' - Valencia having trouble clearing the ball. Alaves with a cross from Valencia's left is not dealt with by Wass, Joselu makes contact over Jaume Costa but heads wide. Dangerous chance.
56' - Some of the stadium lights go out, so the play is stopped by referee for a cooling break.
58' - Referee discusses with players if they are okay to proceed with this lighting. After agreeing, play is going to restart. Before it does, Rodrigo is taken off for Vallejo. Looking forward to seeing him play.
70'- Diakhaby comes as the second substitute for Ferran Torres. Formation changes to a 4-3-3 with Diakhaby sitting just behind Coquelin and Parejo, Vallejo going out to the right, Cheryshev on the left with Gomez in the center.
73' - Second change for Alaves, Vidal comes on for Navarro.
75' - Coquelin with impressive strength and perseverance, retaining possession and carrying on forward despite several challenges from Alaves.
78' - Penalty for Valencia! VAR is reviewing. Diakhaby passes to Parejo, who then passes to Cheryshev, who plays a fantastic lob over the defense to find the continuing run of Parejo. He gets into the box and is taken down by the Alaves goalkeeper. VAR confirms the referee's decision! Great build up play and well-earned penalty.
83' - And he scores this time! 2-0 Valencia! Goalkeeper Sivera is booked for the challenge.
84' - Last substitution for Alaves, Ely off, Saniz on.
89' - Alaves get a goal back, it's 2-1. Garay with a clearance that falls directly to an Alaves player at the edge of the box. He squares the ball to Joselu who fires at goal but Cillissen parries. Unfortunately, Perez reacts quickest and scores on the rebound.
90' - Final change for Valencia, Sobrino on for Cheryshev.
FINAL THOUGHTS
It's a good three points and a decent recovery following last game. This win leaves us in 8th and 2 points behind the Champions League spot currently occupied by Atletico Madrid (they have a game to spare).
Valencia dominated huge portions of the game with Rodrigo and Coquelin having a large part to play in that. Valencia took the lead with Maxi Gomez, who made himself the top scorer in La Liga for Valencia, after this goal. Valencia could have scored a few more but some chances were squandered by hitting straight at the keeper, or refusing to pass to a player in space.
Valencia did manage a second goal with a good buildup resulting in a challenge on Parejo in the area. This time, he managed to convert the penalty into a goal. Alaves managed to pull one back in the dying minutes of the game after a failed clearance from the defense.
Finally, Sobrino and Vallejo were preferred substitutions to Guedes, with both coming on. Good win, would've been better as 2-0 no doubt, but a much needed 3 points.
This is the last game before the International break. It's 2 weeks long so the next game will be away to Atletico Madrid on the 19th.