This is a true test. Sevilla is perhaps Valencia's main rival for the Champions League positions. Every year, the two teams fight for fourth place. This will be a measure of how far off Valencia is from their rival.
In terms of league positions, Sevilla sit at 5th with 19 points, while Valencia is 12th with 13 points. That's a two-game difference. A win here will close the distance and bring Valencia within distance of them. The home crowd at Mestalla will surely want a win, especially against Sevilla.
Last game was a disaster for Valencia. The team took the lead early away from home through the recovered Rodrigo after some great persistence from Kevin Gameiro to keep the ball in play and find the cross. Soon after that the game transformed when Rodrigo was sent off with a straight red card for an elbow on the Osasuna player. With 10 men Valencia were overwhelmed and conceded three goals to throw away the three points. Sevilla played at home against Getafe and after a 70 minute deadlock, found the net twice to secure the win.
If this game wasn't challenging enough based on current form, Valencia has to do this without Guedes (injury), Rodrigo (suspension), Gameiro (injury) and Cheryshev (suspension). The latter three have played an important role in either setting up or scoring goals.
Valencia form: LDWWD
Sevilla form: WWLWL
LINEUP
With those key injuries and suspension, Celades has to adapt and try a different lineup. He has Kang In return after suspension, who should play some role tonight, you'd expect. Manu Vallejo and Ruben Sobrino, who've barely had a chance in previous games, are both called up to fill the void in attack. Who will start still remains to be seen.
Soler seems to be adjusting more and more every game after injury and hopefully Gaya does the same cause he has a big job ahead of him today.
Cillissen will return to being the starting keeper after some dizziness kept him out of the previous game, moments before it started.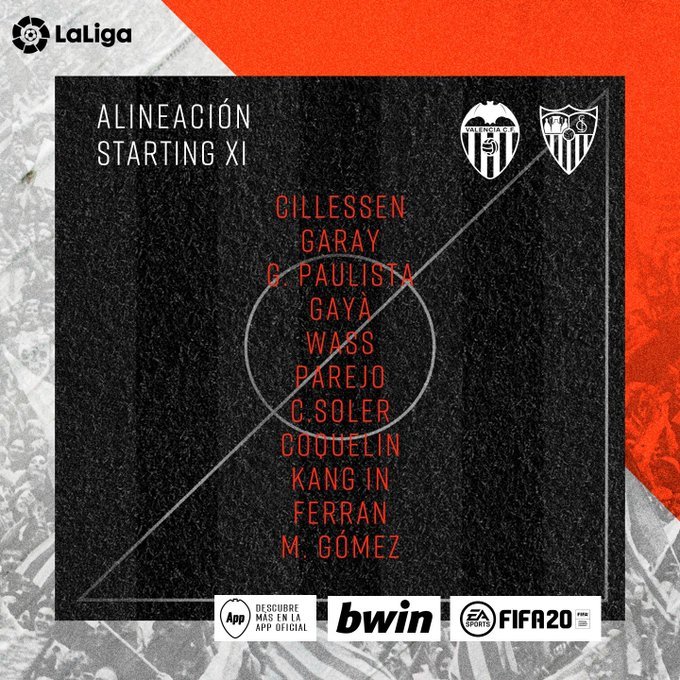 Celades opted to play both KangIn and Ferran to address the gap left by Rodrigo and Cheryshev. This lineup should have a lot of energy.
It remains to be seen if this is a 4-3-3 or a 4-4-2 or even a 4-2-3-1. This lineup is flexible across all those formations. If Ferran is partnering up with Maxi Gomez up front, it will be an interesting to see if he can be as lethal as he is for the Spanish U21 side where he regularly scores a lot of goals.
Bench: Jaume, Diakhaby, Costa, Correia, Kondogbia, Vallejo, Sobrino
MATCH
1' - It looks like a 4-4-2 with Kang In playing upfront alongside Maxi Gomez
3' - Interesting also that Soler is on the left and Ferran is played on the right side of midfield.
10' - Sevilla creating a few dangerous half-chances but the Valencia defense seems up to it so far.
12' - Kang In with great skill taking on 4 defenders and managing a cross but deflected for a corner. Parejo's corner is met with a glancing header from Soler but off-target.
14' - Ferran with great skill of his own on the opposite wing, taking out 2 Sevilla defenders and winning a corner. Parejo's corner is met by Paulista this time but he couldn't hit the target either.
16' - It's great to see the ball being carried forward directly. Players always looking to make a run and driving the ball towards the opposing goal.
18' - Throughball for Chicharito gives him a chance at goal, but he hits the side-netting.
19' - Wass with a wonderful lob over the defense to give Ferran the ball in space, he crosses and finds Kang In whose volley is just over the cross-bar. Good chance.
21' - Ocampos fires from distance but it's wide of the far post.
23' - Ferran fights for the ball and wins a corner. This results in long stoppage as Escudero is elbowed to the face by his teammate in the process.
27' - Escudero is stretchered away and Guedlj is brough on.
28' - Play resumes with a corner. It is parried away, falls to Wass, who fires from distance and it's narrowly wide.
32' - Late challenge by Joan Jordan on Dani Parejo. First booking for Sevilla and it's a yellow card.
36' - Gaya's crosses so far have left a lot to be desired, there are always played over everyone.
38' - Ocampos, Gaya and Coquelin all go down. Replay shows Gaya tackling Ocampos off the ball, but VAR deems it only obstruction with not an act of aggression. Meanwhile Coquelin is taken off injured, this was unexpected and the substitution is taking a while.
40' - Kondogbia is brought on to restore Valencia to 11-men.
45' - 6 minutes of added time by the referee for all the stoppages.
45+1' - Yellow card for Ocampos after he a tackle on Gaya. Questions about whether it was really a yellow.
45+2' - Ferran steps on Ever Banega's foot and gets shown a yellow card. Free kick for Sevilla.
45+3' - 0-1, goal for Sevilla. And it's Ocampos. Totally unmarked, given the space to hit the ball low and it beats Cillissen from distance.
45+4' - Navas is pressured off the ball by Soler and the referee deems it a yellow card offense. Second booking for Valencia.
HALF-TIME: Sevilla lead with a goal on the edge of half-time. Valencia played a really good game for the majority of that first half with lots of energy and some chances from Soler, Paulista and Kang In. However, the team failed to capitalize and were lucky not to have Gaya sent off for an off-the-ball challenge on Ocampos. He would have an intense battle with Gaya after that, and would go on to score the goal. The referee began to lose control of the game towards the end and his lenient approach was soon after this incident transformed to booking left, right and center. Kang In and Ferran were the stand out players of the half for Valencia.
46' - Valencia starting the second half in good fashion. Nearly a goal for Maxi Gomez after a mistake from the Sevilla defense. The goalkeeper produces a save out of nowhere to parry the ball for a corner.
51' - Garay booked for a challenge on Chicharito. Late challenge. Yellow card.
57' - Vallejo is the second substitution for Celades. Carols Soler off.
59' - Banega with a shot from distance. It's wide of the goal.
66 ' - Paulista has a few rough minutes. He falls down from dizziness, is restored but seems totally out of it. Now he earns a booking after a challenge on Chicharito is exaggerated to draw the booking. Yellow card.
68' - Kang In is taken off for Sobrino, clearly Celades wants more offense and brings on a conventional striker to partner with Maxi Gomez. All Valencia's substitutions have been used up.
73' - Maxi Gomez taken out at the edge of the box by Fernando. Yellow card. This is an excellent chance for Parejo.
75' - The shot is fired straight at the wall and deflects out wide to Daniel Wass. He puts it for a cross but it's claimed by the keeper.
76' - Vallejo finds the back of the net but he is clearly in an offside position. The goal is disallowed.
80' - Parejo is taken out on the right wing by Chicharito. The linesman takes a while but eventually raises his flag for a foul.
81' - GOAL Valencia! 1-1! Ruben Sobrino meets Parejo's cross and heads the ball into the back of the net. His first chance at goal and he scores!
88' - Valencia really pushing for goal. Great cross from Wass almost finds Maxi but it's cleared for a corner as the defender gets to it first. Parejo's corner is claimed by the keeper.
90' - Parejo tugs on Vazquez's shirt. Yellow card for the captain. Free kick for Sevilla. Joan Jordan with the delivery, its headed back in by the receiving player but Cillissen claims. Four minutes of additional time.
90+2' - Free kick for Valencia for a challenge on Sobrino, Valencia players rush forward. Nothing comes of it as Sevilla clears.
90+4' - Valencia with one final free kick for a challenge on Maxi Gomez. Everyone forward but Wass and Gaya. The header is met by Sobrino but he can't score this time!
FINAL THOUGHTS
I really thought we would clinch the win. Even with all these players that are injured/suspended Valencia still managed to make it an even game. Speaking of injuries, Coquelin can now be added to that list. Why is it that every year we rack up this list of injuries?
I like some elements of the first half but it still bugs me that we struggle to score. I thought the whole plan to move away from Marcelino's defensive tactics was so that the team can give more in offense. It seems that the team concedes every game and always scores quite a few goals. The goal Valencia conceded was totally avoidable.
Gaya almost got red carded and that was too close. If it were to be 4 games in a row where this happened, it would be really really frustrating. Luckily he escaped.
Next game is Saturday, away from home, against Espanyol.