Following the away trip to France for the Champions League game against Lille, the team returns to Spain for another away game, this time against Osasuna. The reactions from last game were mixed. Some thought the team deserved to win but was unlucky, others felt that Valencia were outplayed.
In La Liga, we can already see some fruits of Celades's labor as we are in quite good form recently. But it's games like today that can take that away. If Valencia don't get a positive result, a convincing win, there will be complaints. Looking at the table though, you would say that this is a close game.
Valencia is 11th in the table with 13 points and Osasuna is 13th with 11 points. Based on that the game looks even. Also, with this being their home ground, they cannot just be dismissed as an easy game.
Osasuna form: LWDLD
Valencia form: DWWDD
LINEUP
Rodrigo finally returns to the squad list following 2 absences due to injury. Some pointed to his absence as an explanation for some poor transitions to attack in recent games. We will see today. Also Gaya who was sorely missed in the past few games should be ready to start. Corriea also retur s to the squad list.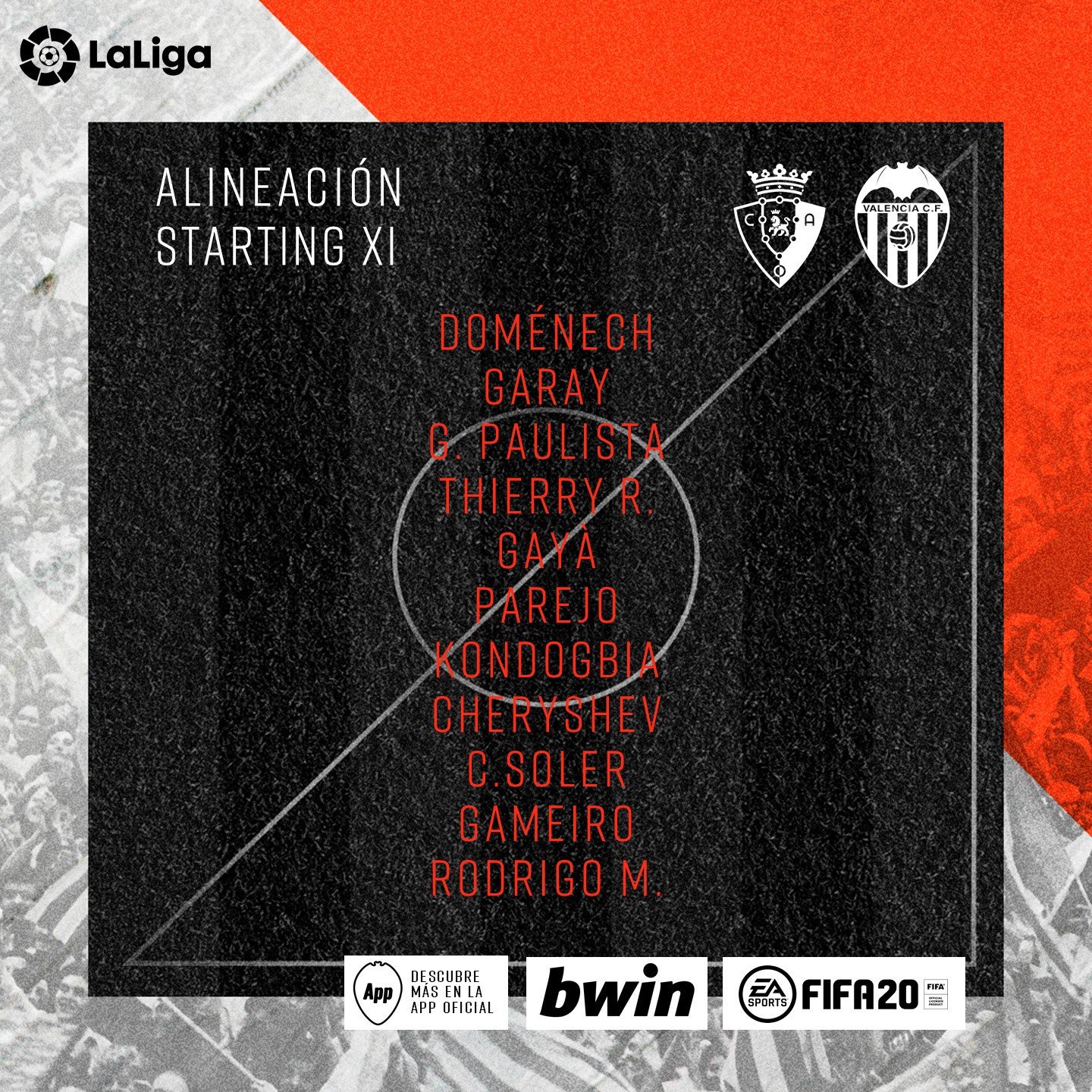 In terms of missing players. Guedes is still recovering from the injury he sudfered during the international break. Kang In misses the game through suspension due to his red card challenge last game. Piccini is still recovering but has moved on to the next stage. Vallejo and Sobrino are out of the squad by technical decision. Mangala is still in his recovery program.
Bench: Cillissen, Diakhaby, Costa, Wass, Coquelin, Ferran, Maxi Gomez
MATCH
14' - GOAL Valencia! 0-1! Carlos Soler passing back and forth with Gameiro using their heads before Soler plays the ball into space ahead of him. Gameiro is persistent, keeps the ball in play and takes out the opposing defender. He sees Rodrigo make a run at the back post and picks him out for an easy tap in.
29' - Red card for Rodrigo. Valencia down to 10 men. An aerial battle between Rodrigo and an opposing player causes both of them to tumble. As Rodrigo hits the ground, he slams down his elbow and hits the defender in the head. Referee deemed it an intentional act of aggression and dismisses him. Second game in a row now Valencia go down to 10 men.
34' - Goal for Osasuna. 1-1. That didn't take long. Jaume did well to save the shot from the edge of the box, but the ball made it's way to the opposing wide player who crossed it back into the box. Oier makes a long run into the box unmarked and heads the ball into the net. Poor defending.
42' - Yellow card for Valencia. Cheryshev will miss the next game due to accumulation of bookings.
48' - Goal for Osasuna. It's 2-1. Another headed goal, this time by Ruben Garcia following a Roberto Torres cross to the back post.
55' - Osasuna's Oier gets booked. Yellow card.
58' - First substitution for Osasuna, Adrian Lopez off, Marc Cardona on.
65' - Celades takes off Cheryshev and brings on Maxi Gomez. It seems he wants to try for an equalizer.
69' - More attacking reinforcements for Valencia, Kondogbia off, Ferran Torres on.
77' - Second change for Osasuna, Roberto Torres off, Castellano on.
80' - It's 3-1. No chance now. Jaume leaves his line to parry a cross, but the ball falls to Estupinan who fires into the top right corner of the net. Jaume got a hand to the shot but couldn't keep it out.
85' - Changes for each team. Avila off, Perez on for Osasuna. For Valencia, Gameiro is taken off for Coquelin. Celades probably wants to see off the match without any more goals conceded. Defensive change.
FINAL THOUGHTS
I missed the game and it seemed like it's a good one to miss. The game started off well. Rodrigo comes back into the lineup from injury and manages to score. Great play between Soler and Gameiro and such persistence from the latter to keep the ball on, take out the defender, and find Rodrigo at the back post. How many of these goals has Gameiro set up in recent games?
Then the red card came and practically killed the game. I've seen a few clips of it and a lot of them show that it was just a casual landing. Only the Bein Sports clip shows an angle that could be interpreted as an intentional act of aggression. The defender clearly made a meal of it, that's for sure. I don't think Rodrigo had ill intent but it's hard to say that it's a clear and obvious error so that VAR could over-rule. It appeared like he was just dropping his elbow on the ground so that he could get up and the defender happened to be in the way.
The equalizer came quickly from Osasuna. They quickly took the lead, 3 minutes into the second half. Despite Celades bringing on Ferran and Maxi Gomez to attempt to salvage something from this game. Osasuna held on and went further ahead 10 minutes from full-time.
It's a game to forget. I would say that Celades needs to address some disciplinary issues within the team. That's 3 red cards over the past 3 games. And they have directly cost us all three games.
Next game is Wednesday against Sevilla. They hold 5th place and lead Valencia by 6 points. Good new is Valencia if finally back at home. Bad news is both Rodrigo and Cheryshev will miss the game due to suspension. It's a good chance to recover. If they manage to remain with all 11 players on the field, they should be able to contest the 3 points.