Here we go, first game of the Champions League and it could be a tough one. We come into this game on the back of a heavy 5-2 loss to Barcelona, even missing a lot of their key players. Chelsea come in on the back of a 5-2 win against Wolverhampton. Their side has been inconsistent this season, as have we. We have 4 points from 4 games and they have 8 points from 5 games.
LINEUP
The coach has said that he hasn't had much time to work on something new and is going with what is familiar to the players. Again, the Valencia website release only the starting 11 with not formation given. In terms of Chelsea's lineup, Rudiger and Kante notably misses the game with injury.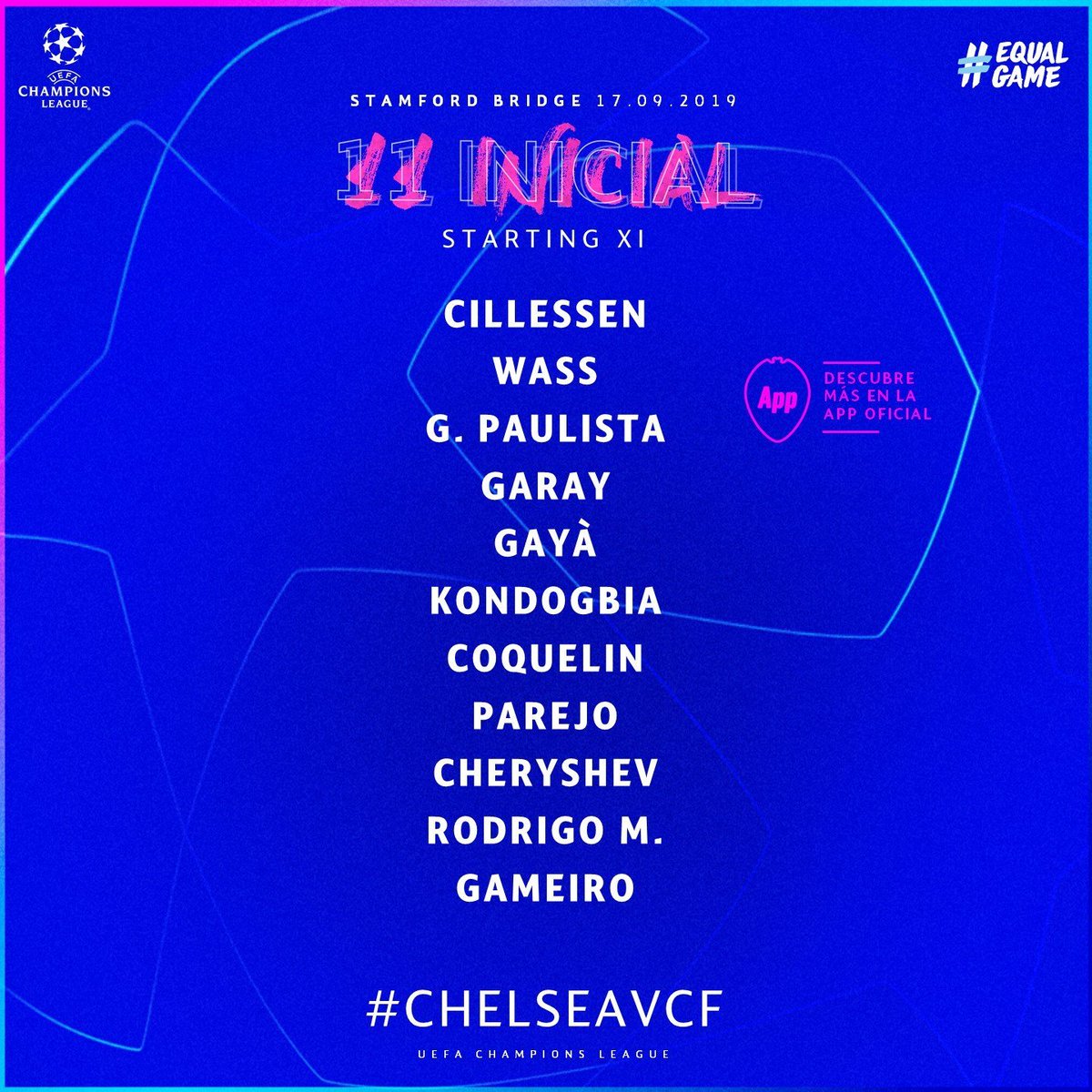 The defense and goalkeeper remain untouched, it's the same 5 that played against Barcelona. In midfield, we have both Kondogbia and Coquelin alongside Parejo and Cheryshev. Rodrigo and Gameiro start in front. It appears that Cheryshev has been preferred over Guedes for this game. He did assist a goal in the short time he was on in the previous game against Barcelona. I'm sure though a lot of people would want Guedes to start. Maybe he will be brought on later to play against players with tired legs.
As for formation, It's probably 4-4-2 where Coquelin plays on the right. He does have experience against Premier League sides so it come in handy. Paulista does as well. It could also be a different formation in a 4-3-3 or a 4-2-1-2 but if the coach is sticking to what players are familiar with, this not likely.
Bench: Jaume, Costa, Diakhaby, KangIn, Ferran, Guedes, Maxi Gomez
MATCH
2' - Valencia pressing pretty high up early on. Chelsea using long balls to exploit space left by our full-backs.
5' - Chance for Chelsea from the right. Build up play results in a pull-back in the box but it is cleared for a corner.
6' - Corner is headed towards goal by Chelsea but Cillissen saves.
7' - Wass makes a mess of a cross from the opposite end and it falls to a Chelsea player but cleared by Kondogbia who reacted quickly and took a knock. He got up and seems okay.
8' - Coquelin follows through on a pass and caught on Mount Yellow card.
13' - Parejo dispossessed in midfield in his own half. Kovavic runs with the ball towards goal but is stopped by a good tackle from Paulista.
15' - Mount leaves the field with an injury carried on from Coquelin's tackle earlier. Pedro comes on as a replacement.
20' - Parejo lobs the ball over the Chelsea defense to pick out the run of Gaya who heads it straight at the keeper. Assistant referee calls offside.
21' - Cheryshev picks out Gameiro with a through ball but he has no support in the box. He holds it up well before getting dispossessed,
22' - Corner from Chelsea cleared by Wass, whose block resulted in a corner in the first place.
25' - Great run from Rodrigo, on the right picked out by Parejo. Rodrigo carries it forward play it towards Parejo who picks out Coquelin but is stopped by the Chelsea defense.
26' - Quick counter from Chelsea results in a header from Abraham, saved by Cillissen.
28' - Rodrigo picks out Gameiro with a great lob, he takes a bad touch taking him away from goal and making the angle more difficult. He gets pushed off the ball by the Chelsea defender.
29' - Rodrigo is playing brilliantly, build the link that builds up every play. He plays several one twos with his team before taking a shot which is blocked by Gameiro standing in the way and the rebound is sent flying by Wass.
32' - Rodrigo again with great movement and link up and his through ball almost lets Cheryshev in on goal.
33' - Jorginho tackles Kondogbia late and gets booked. Yellow card.
34' - Willian charges at our defense past Parejo, then Kondogbia and Coquelin. His shot narrowly misses the post.
40' - Kovacic picks out Willian in space in the box but under pressure from Paulista, he cannot hit the target.
45' - Increasing pressure from Chelsea in the last 5 minutes of the game. Willian being the main culprit. Some positives to take away from the first half. It's much better than the performance last game. They struggled to get the few chances they had. They had to resort to long balls and crosses since there is no space. Rodrigo and Paulista are playing a fantastic game. Rodrigo has a free-role and everything goes through him in build up. Paulista has shut out a few very dangerous balls. Kondogbia has also had some good challenges but sometimes gets beaten easily. Look forward to the second half.
SECOND HALF
49' - Cheryshev with a shot from distance but lacking the power or accuracy to trouble the goalkeeper.
55' - Increasing pressure from Valencia over the past 2-3 minutes, trapping Chelsea in their own box. Wass draws a free kick on the right. To be taken by Parejo. It is cleared for a corner.
56' - Parejo plays the ball low to Gameiro who had made a run back towards the edge of the box and was in loads of space. Unfortunately, the training ground routine did not hit the target.
60' - Great through ball from Rodrigo deep in midfield towards Gaya but he had stopped his run too short and the ball goes out of play.
61' - Gaya with a challenge to stop Willian in an advanced position. Free kick Chelsea.
62' - Alonso curls the ball around the ball to the bottom-left corner of the goal, amazing save by Cillissen.
65' - Lob from Kondogbia to pick out Rodrigo in space out wide, who gets pressured off the ball for a corner. Wass sends the effort resulting from the corner high.
67' - Chelsea with a chance, Azpilicueta squares the ball across the box but blocked by Paulista. Corner Chelsea. Cleared and eventually ends up with Cillissen, He tries to start a quick counter attack but it is dealt with by Chelsea defenders, pushing Gameiro off the ball.
68' - Chelsea starts a counter in return, Abraham and Willian play a one two but Garay out muscles him off the ball.
69' - Pedro with another chance in the box, looking to bend one around the keeper but it's wide.
70' - Maxi Gomez will be the first substitution for Valencia coming on for Gameiro.
71' - Kondogbia picks out Rodrigo again with a diagonal ball out wide, and again Chelsea resort to a foul to bring him down. Free kick Valencia. Parejo's delivery goes past everyone and out of play.
73' - Chelsea second substitution. Zouma to be replaced by Giroud.
74' - Gaya is fouled after a one-two with Cheryshev, free kick for Valencia in a decent position.
75' - GOAL VALENCIA! 0-1 ! Rodrigo hits the ball into the ground and to the roof of the net after breaking free from the defense. Great delivery frrom Parejo, good finish by Rodrigo. He really deserves it after a great performance.
78' - Effort from Giroud saved easily by Cillissen, hit right at him.
79' - Final substitution form Chelsea: Ross Barkley on for Kovacic
82' - Barkley with a chance from the edge of the box but deflected for a corner. Punched away by Cillissen. Pedro fires the rebound at goal, deflected for another corner.
83' - Chelsea claim a handball following the clearance from a corner. Ball had hit Wass's hand but his arm was in a natural position close to his body, Referee didn't give anything.
85' - VAR asks referee to review the decision. Penalty could be given and it is. Referee overturns his decision after reviewing VAR. Barkley to take.
87' - AND HE MISSES! He hits the crossbar and gone over. The Chelsea players were debating who should take it which is not a good sign. Barkley insisted and then missed. Big chance gone!
89' - Yellow card for Giroud after a challenge on Paulista. Substitution for Valencia, Rodrigo off for KangIn.
90' - Added time is four minutes, Diakhaby getting ready to come on.
90+1' - Maxi Gomez gets taken down, foul stops play. Diakhaby comes on for Cheryshev to shore up the defense in the final few minutes.
90+3' - Gaya fouls Pedro for a free kick. Final minute! Alonso curls one towards the near post but Cillissen parries, great performance from the goalkeeper. Resulting corner creates another chance but Christensen sends the header wide.
The game is over! Valencia CF have done it! The first game for Celades in the Champions League and he gets a win against the Europa League Champions and away from home.
FINAL THOUGHTS
The team stepped up today. Despite all that happened, they decided to actually give it a go. Celades will really appreciate this performance. This will help him build trust with the players. He looked really nervous before and during the game but he will breathe a huge sigh of relief. It was a tough game and we could've gone down on many occasions. The penalty towards the end was a great scare but thankfully they didn't score. A draw would've still been amazing given the state of the club, but a win could do wonders. Great performances from Rodrigo, Paulista and Cillissen.
Elsewhere in the group, Ajax beat Lille 3-0, putting them on top of the group, tied with us on points but ahead on goal difference. We face them next in the Champions League.
Next game is at Mestalla against Leganes on Sunday. It's a chance to continue building momentum. We were discussing that this Leganes games would be the start of building momentum, but today's game got us a head start on that. It will be interesting to see the reaction of the fans since it will be the first home game after the incident with Marcelino.