Another tough game. Seems like that's the word best used to describe our previous games as well as games going forward. This one is tough for the struggle the team has had, the game being played away and playing against the 3rd place team in the league.
Last game proved Valencia had fire power, scoring 3 goals in 10 minutes. But it also presented one of the worst version of defense that we've seen. The team allowed Getafe to catch up and draw the game. There was controversy with regards to two VAR decisions against Valencia but the blame cannot be shifted solely to that.
Athletic Bilbao form: DWDWD
Valencia form: LWLDD
LINEUP
Bad news is Gaya, Kondogbia and Gameiro are out with injuries, joining Carlos Soler and Piccini although not as long-term. Thierry Correia is also in the squad list after debuting last game. Vallejo and Sobrino both make the squad list for the first time, making Mangala the only player not to be called up yet.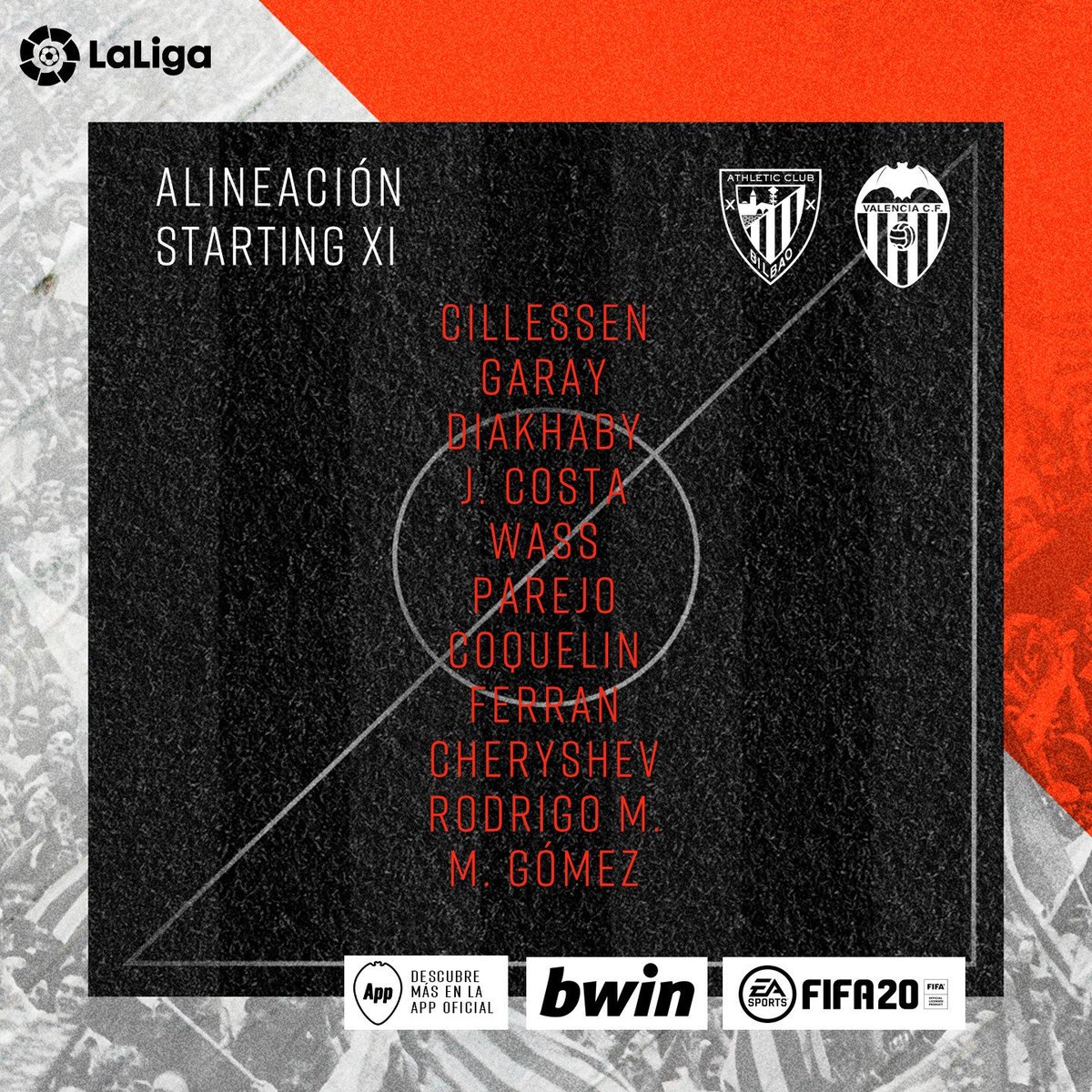 Valencia start with a 4-4-2, with more rotations this game. Cillisssen in goal, Diakhaby and Costa retain their spots. Correia is replaced with Wass after debuting last game but is available on the bench. Garay returns to the defense and Paulista is rested. In midfield, Parejo and Coquelin are unchanged with Cheryshev and Ferran on either side. Guedes is on the bench again. Forward line is the same as the one that played most of last game with Rodrigo and Maxi Gomez.
Bench: Jaume,Correia, Paulista, Guedes, Vallejo, KangIn, Sobrino
MATCH
4' - Wass with a cross from an advanced position in midfield. It finds Maxi Gomez who aims for the top corner and the ball is high and wide.
8' - Cheryshev with a cross from the left for Rodrigo but cleared for a corner by Athletic Bilbao.
9' - Rodrigo finds Maxi Gomez at a tight angle to goal, he fires across the goal anyway, but narrowly misses.
12' - Chances are heavily Valencia's so far. The passing combinations are noticeably different from Marcelino's Valencia. Wide midfielders are providing early crosses from various positions, quickly to the forward line.
14-18' - Valencia keeping the ball in the Athletic half, with a free kick and two corners resulting from it. Athletic struggling to clear.
20' - Cheryshev with a rough challenge in the Valencia half. Yellow card.
24' - Wass having a good game so far. Sharp and aware in defense, with well-time forward runs and crosses.
26' - GOAL Valencia! 0-1! Cheryshev scores! What a counterattack! 5 passes to cross the length of the field. Maxi plays a great through ball for Ferran to run on to, who then squares the ball across goal for Cheryshev to tap in. Costa clearance to Parejo to Rodrigo to Maxi to Ferran to Cheryshev all very quick, no slowing down. VAR checking for offside on the pass to Maxi Gomez...The goal stands. The Bilbao defender's arm played him on.
33' - Rodrigo gets a yellow card after a challenge in the Bilbao half.
35' - Williams with a run forward taking it all the way towards goal but pressured to remain wide by Garay. He still manages a shot and Cillissen parries for a corner. Corner is cleared after a foul.
36' - Rodrigo playing a dangerous game with another foul. We cannot afford a red card.
43' - Parejo clears with header, Bilbao player falls down with some claims of penalty that are dismissed by the referee quickly.
45' - Two minutes added. Increasing pressure from Athletic in the closing minutes of the half but well-dealt with by the defense.
Half-time: Valencia having the upper edge in scoreline and chances despite this being a tough away game. Athletic had a few chances but they were dealt with well and they look quite average. A swift counterattack gives Valencia the goal via Cheryshev. It's important we keep up the offense and defense in the second half. Hopefully, we can extend the goal lead to 2.
46' - Second half starts with bad news. Garay injured, and Paulista has to come-on during the break. This could force Celades to use Mangala, at least as a substitute option, should this injury be long-term. Hopefully, not. Diakhaby booked for a challenge on the edge of the box resulting in dangerous free kick. It's blasted high by Bilbao.
48' - Bilbao with an inward curling cross, Cillissen anticipates and claims the ball. Wass giving his man too much space.
50' - Athletic Bilbao get their first yellow card for Unai Lopez.
51' - Rodrigo with a through ball for Maxi Gomez, he fires at goal but the keeper parries for a corner.
54' - Cillissen with two quick consecutive saves to maintain the lead after a defensive mistake from Costa.
59' - Cillissen with two more saves, one to parry a cross and then to stop a shot resulting from that.
61' - Athletic Bilbao brings on former Valencia player Aduriz and Benat for Ibai Gomez and Unai Lopez. Dangerous players coming on.
63' - Heavy challenge on Ferran Torres at the edge of the box from behind leaves him rolling in pain. The defender didn't get the ball but play goes on. Referee gives nothing.
65' - Cillissen owning his penalty box, punching a corner away to safety. Bilbao applying increasing pressure.
66' - Williams with another run and a shot across goal but it's wide.
68' - Manu Vallejo is making his Valencia debut! Maxi Gomez will be replaced.
72' - Manu Vallejo makes a fantastic run after a pass from Ferran out wide. He runs past 3 defenders and plays a delightful through ball for Cheryshev who hits it right at the keeper.
77' - Raul Garcia runs over Paulista with a jumping header. Aduriz protests and gets a yellow card.
82' - Long cross towards Raul Garcia, cleared by Paulista.
83' - Athletic take off Capa and bring on Lekue.
85' - Cillissen with a great performance today. Everything in the box is under his control, very proactive play to intercept crosses and through balls.
86' - Final substitution for Valencia: Sobrino comes on for Cheryshev. Another player debuting this season.
88' - Free kick from Bilbao following a soft challenge from Sobrino, is headed wide by Raul Garcia
89' - Cillissen shown a yellow card for time wasting.
90' - Bilbao playing with 10 men as a player is stretchered off. They have used up all their substitutions already. 5 minutes of additional time.
90+1' - Sobrino with a through ball for Rodrigo putting him through on goal, but he misses.
90+3' - Valencia almost get their second. Sobrino carries the ball forward, takes out a defender, takes a shot but it's saved. The rebound is gathered by Vallejo who who finds Rodrigo but it's saved again.
90+5' - Yellow card for Rodrigo. Referee ends the game. Second win!
FINAL THOUGHTS
A deserved win after the effort put out by the team today. It was a tough away game, against a rival, the 3rd place team in the league, and despite all the struggles the team pull out a good performance. Athletic looked average compared to their usual performances. They struggled in the first half, rallied back in the second but couldn't equalize.
Stand out performance was Cillissen for me. Everything remotely in his direction was handled well and under control. Other than that the win itself was a team effort. Great link up play and transitions. Mostly solid at the back and brave going forward. Rarely did the play slow down when moving the ball forward. The passing was smooth and accurate. The 5 passes leading up to the goal were a great example of that. Brilliant squared ball by Ferran for Cheryshev to find the goal.
Debuts for both Sobrino and Vallejo were granted by Celades, even with Guedes and KangIn on the bench. It was nice to include them but no doubt Guedes will feel hard done by that decision. The few times they touched the ball, there was danger especially with Vallejo but hardly enough to judge them. They had few touches and barely enough time.
Next game is a home game, as the Champions League fixtures return. Valencia welcome Ajax to the Mestalla in a highly contested game. I am very much looking forward to it. Amunt!