Game 6 of the season and we head into it sitting 14th in the table. Our opponents are one point and two positions ahead of us. This game has turned into a heated contest in recent times and it might very well go the same way today.
There were glimpses of hope last game against bottom-table Leganes but it was also disappointing for huge portions of the game. Nobody wants to settle for a draw, especially at home, and even more so against the bottom-table team. It's still a work-in-progress and there are signs of change and this game is one step towards that. Celades's fourth game will be a challenge based on previous matches against Getafe and the goal should be a win. We need to start picking up more points to catch up to our rivals and staying in the race for the Champions League.
Valencia face two former players in Jason and Maksimovic on the opposing lineup.
Valencia CF La Liga form: DLWLD
Getafe CF La Liga form: LDDDW
LINEUP
Interesting changes in today's lineup. Celades has said that he has made rotations every game so far, and this one is no exception. It's expected since he's still looking for the ideal starting 11 to implement his vision of the team. Of course, players also need rest in a heavy schedule.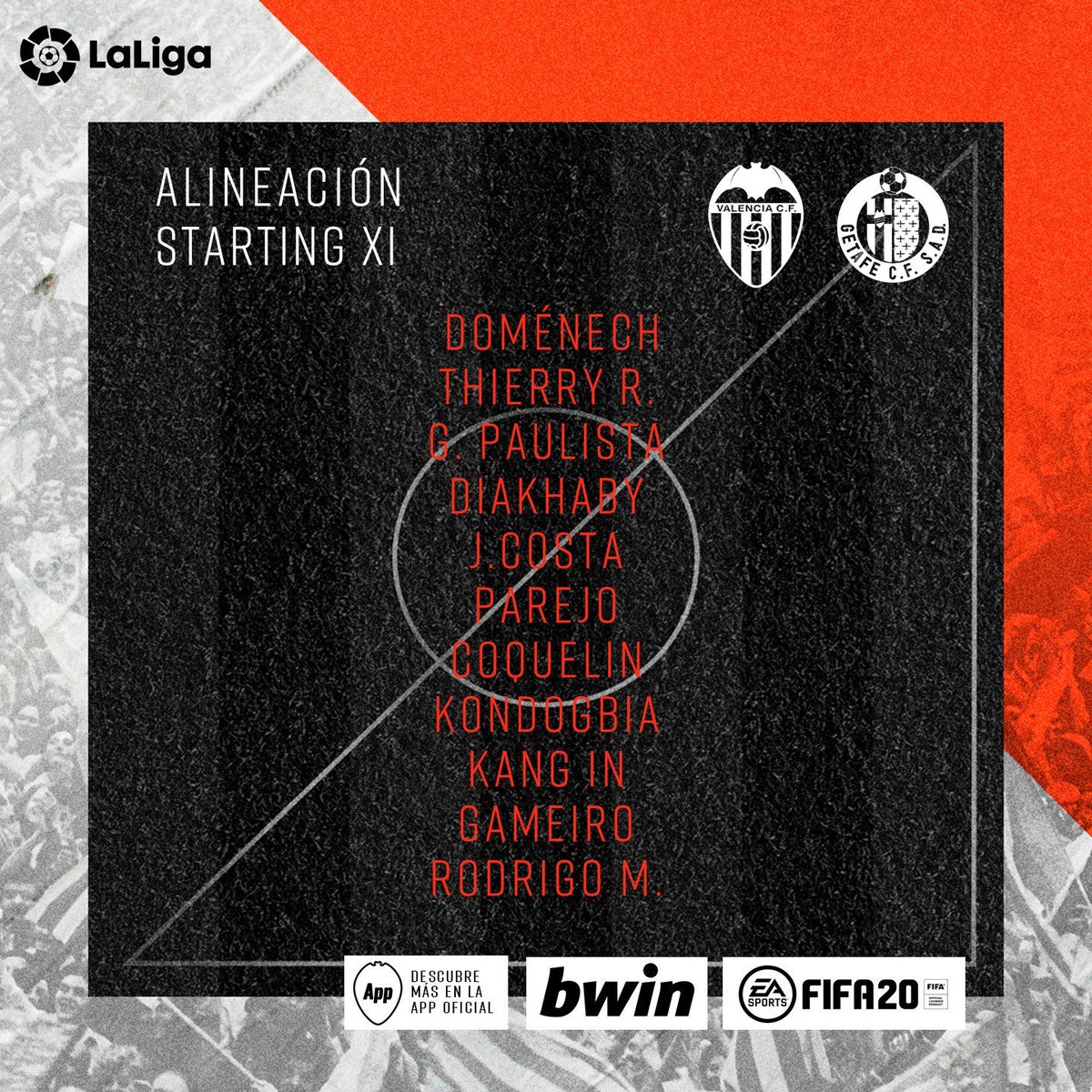 Domenech gets his first start ahead of Cillissen who has started to settle into the team. In defense, new signing Thierry Correia gets his first start in right-back ahead of Wass. After last game when asked about him, Celades said he needed more time to settle into a huge team like Valencia. It's his chance to make a good impression in front of the home crowd. Paulista retains his spot, Diakhaby starts over Garay and Jaume Costa is the left-back of choice with Gaya injured.
In midfield, Parejo starts alongside Kondogbia and Coquelin. Parejo needs to step up and provide better delivery than what he did in the second-half of last game. Kang In is the last of the midfield. The forward line consists of Rodrigo and Gameiro.
Rodrigo has said last game that they played 4-4-2 in defense and 4-4-3 in offense. This could could be the case again today.
Bench: Cillissen, Garay, Wass, Ferran, Cheryshev, Guedes, Maxi Gomez
MATCH
1' - It's disappointing that we had to concede this early. 0-1. Getafe score with a string of passes following a corner. Jaime Mata was on the edge of offside but goal stands. Kondogbia was his marker.
10' - Early substitution as Gameiro is forced off through injury. Maxi Gomez comes on.
13' - Foul on Rodrigo, yellow card for Nyom.
18' - Close call as Jaume makes a tackle to stop a dangerous play, player remained on his feet.
29' - GOAL! It's 1-1! Stunning goal from Maxi Gomez! It started with great dribbling from Parejo who then picked out Kondogiba, and then found Kang In out wide. He delivered a cross which hit a Getafe player and flew into the air. Maxi Gomez hit a brilliant bicycle kick which hit the post and went in.
31' - Yellow card for Maxi Gomez after a heavy challenge from behind on a Getafe player.
33' - Correia linking up well with Rodrigo and holds the defender away for a corner.
34' - GOAL!! 2-1! and it's Maxi Gomez again! Parejo playing a one-two with Kang In from the corner and the captain delivers a beautiful cross which is headed in by Maxi Gomez for his 3rd goal of the season! Nice comeback!
38' - WOW, it's 3-1! Kang In scores! Rodrigo with a great fake-out on the right wing which took him past the defender. He ran alongside the goal line and pulled the ball back for a great slot in by KangIn!
41' - Yellow card for Jaime Mata after a challenge on Parejo. Getafe committing so many fouls to try to win the ball back. Kang In and Parejo have been clipped at all game.
43' - Getafe being really aggressive again, free kick Valencia. It's punched away by the keeper.
45' - Two minutes added.
45'+2 - Heavy challenge from Jason on Paulista. Yellow card Getafe. Their third of the match.
HALF-TIME: what a great turn around. The first 10 minutes looked really nervy and tense, especially after the early goal and the injury to Gameiro adding to the list of injured players. Credit to the team for pulling it together after that. A brace from Maxi Gomez after great deliveries from KangIn and Parejo. Awesome that KangIn also gets a goal after a fake-out and a great pull-back from Rodrigo. More of the same in the second half. Getafe being bullies like always and it's good to see them get booked for it. Looking forward to the next 45 minutes.
45' - No changes in lineup from Valencia as the second half starts.
49' - Getafe still out to injure all of our players.
53' - Getafe with a subsitution, Molina off for Angel Rodriguez.
55' - Yellow card for Getafe as Djene hits Maxi Gomez with his studs up.
60' - Getafe substitution. Nyom out, Kenedy in.
66' - 3-2. It had to be him. Valencia player Jason, on loan to Getafe, scores.
68' - 3-3. Getafe equalize. A cross into Angel Rodriguez, who was in loads of space in the penalty area, is headed into the goal. Defense falling apart.
71' - Coquelin taken out by Maksimovic, free kick Valencia. Parejo delivers to Coquelin but its' headed just wide! He was offside regardless.
72' - Substitution for Valencia, Kang In off, Guedes on.
76' - This is ridiculous, every time play starts it stops for a Getafe foul.
80' - Final substitution for Getafe. Jason off, Portillo on.
82' - Wass for Kondogbia will be the final subsitution, Kondogiba picked up an injury from the abuse he has received from the Getafe players. We can't afford all these injuries.
FINAL THOUGHTS
More points dropped. We had claims for a penalty near the end as well as an offside in the first minute that were really really close. But close doesn't matter, the result still says draw. The team let a 3-1 lead at half-time drop. The defense was in shambles in the second half. We made 3 rotations to our defense from last game, with only Paulista remaining. The two full-backs were being exploited by the opposition. Correia was decent going forward but showed his inexperience in defense and the opposition were aware to target it that side.
This wasn't helped by Getafe playing so rough and using every chance they had to foul our players resulting in interrupts to the flow of the game. They got booked a lot of the time but we walked out with 2 more injuries to Kondogbia and Gameiro today, adding to Gaya, Soler, and Piccini. They got booked some of the time but repeated challenges over and over again, undeterred by bookings.
The optimism lies in the performances from Maxi Gomez, Kang In, Parejo and Rodrigo. Maxi Gomez made turned around the negativity from the Gameiro injury, got in good positions and took his chances well, scoring a stunner that's surely a top contender for goal of the week. This was the kind of performance the fans were waiting for him to put forth. Kang In was dynamic, energetic, mature and had great vision. The experience of Rodrigo and Parejo is a good complement to the energy, talent and potential of the youngsters.
Next game is on Saturday, away against 3rd place Athletic Bilbao, who've had a great start to the season. It will be a tough game for that reason and the fact that it's away from home. If Celades can get a win here, it will do him really well. At this point, we need to start picking up the pace of the season. We can't fall too far behind. The game after that is home to Ajax at Mestalla, so that will be two tough challenges for Celades and the team in a row.