Fourth game of the season and a crucial time for the team. New coach, Albert Celades has a mission today, a mission he's only had 2 days to prepare for. It's hardly enough time for FC Barcelona. We're helped in the fact they are struggling as well, accumulating a similar number of points to us. They are also without Umtiti and Messi for this game, and Suarez is on the bench, surely a big help as well.
LINEUP

No indication of formation so far but assuming it is still 4-4-2 since the team didn't have much time to prepare anything else. The lineup is very similar to what would be under Marcelino. In the contested positions, we have Coquelin starting over Kondogbia, and both Ferran and Guedes given the nod over KangIn and Cheryshev.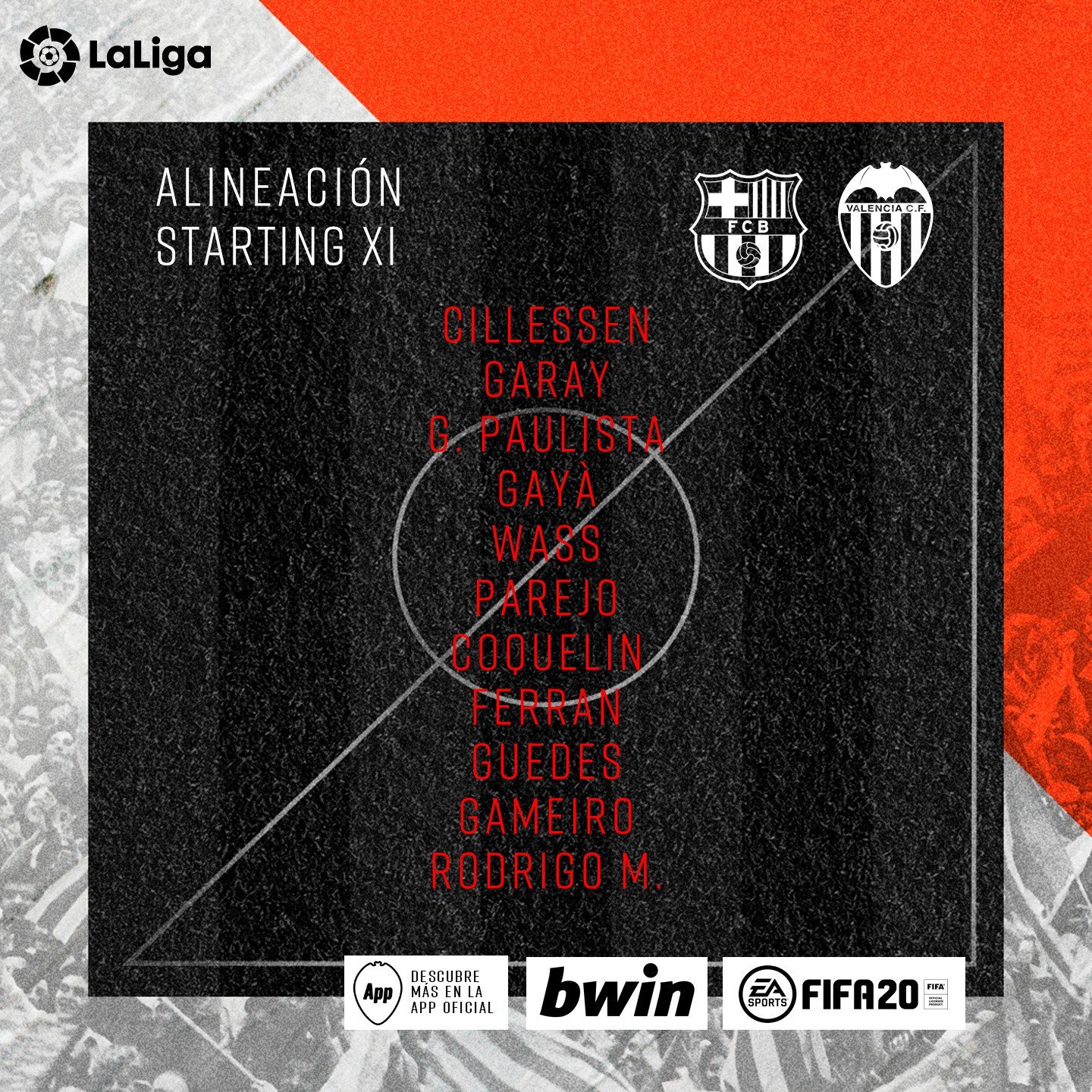 Jaume Costa is back in the squad list after returning from injury. Maxi Gomez is on the bench and Manu Vallejo out of the squad completely. KangIn, Cheryshev, and Kondogbia will be the subs for midfield, while for defense we have Jaume Costa and Diakhaby on the bench.
While the lineup is not that different, the tactics could still be but I wonder how much Celades has deviated the plan from what Marcelino had laid out. We'll wait and see.
MATCH
Game about to start and it is 4-4-2 as expected.

2' - It's already 1-0 for Barcelino. Ansu Fati scores after Frankie de Jong picks him out in the box. Very poor start.
3' - Guedes plays a great lob for Gameiro but it just ahead of the striker, who was clear on goal.
6' - Well, it's 2-0 now. Alba picks out Fati with a through-ball on the left, who then pulls it back for de Jong who hits the roof of the net, past Cillessen.
9' - Good counter from Valencia after dispossessing Barcelona. Coquelin drives the ball forward, picks out Gameiro, who wins a corner on the right. Corner punched away by Ter Stegen.
16' - Fati runs along the edge of the area past Garay and Coquelin, and fires but his shot is deflected for a corner which is cleared instantly.
17' - Busquets picks out Perez with a through ball but it wasn't taken well, he would've been through 1v1 against Cillissen.
18' - Good counterattack from Valencia after Parejo dispossessed Barcelona in midfield. Ferran picks out Gameiro, who then finds Rodrigo, returns it to Ferran but blocked by Barcelona.
19' - Ball played ahead of Gameiro, who runs on to the ball, drives it forward towards Ter Stegen but cannot hit the target.
22' - Barcelona content with passing the ball around, depriving us completely of possession and having Valencia chase the ball everywhere.
25' - Valencia completely overwhelmed and can only blast the ball away when given a chance.
27' - It's 2-1! Valencia manage to pull one back from one of our only chances in the game. Smooth, smart build up between Rodrigo and Parejo. Parejo picks out Rodrigo plays a great through-ball to find Gameiro's run who then calmly slots it past Ter Stegen. VAR reviewing the goal currently for offside...
28' - VAR gives the goal!
30' - De Jong draws a challenge from Rodrigo from behind. Yellow card for Rodrigo.
32' - Barcelona fans claim a handball, then a foul in the penalty area within a 2 minute span. Referee and VAR give nothing.
33' - Fati gives Wass more trouble, as he cuts inside and fires again from distance, wide again.
36' - Possession: Barcelona (75%) - Valencia (25%)
38' - Great run by Ferran to keep the ball in play in the Barcelona half. He picks out Gameiro whose shot is saved, the rebound falls to falls back to Gameiro who tried a bicycle kick. Rodrigo tries to get the rebound but play called back for a Valencia foul.
39' - When given space Gameiro, Ferran and Guedes are causing increasing trouble for Barcelona. Guedes wins a corner. Taken by Parejo but cleared for another. This one punched away by Ter Stegen.
42' - Guedes wins another corner. Parejo finds Rodrigo who heads it back towards the center but Ter Stegen catches it.
45'+2 - First half is done, started quite miserably and could've gotten worse. Becaome more of an even match towards the last 20 minutes.

SECOND HALF

46' - Quick start from Valencia. Ferran drives the ball forward finds Wass's overlapping run but Wass cannot find a good cross. First one was blocked, second one was too high for Rodrigo to control.
51' - Barcelona get another goal. Griezmann gets a shot through even surrounded by so many players (Parejo, Paulista, Coquelin). Cillissen saves but the ball bounces back to Pique who just taps the ball lightly into the net from close range.
53' - Alba pulls Rodrigo down to stop a Valencia attack. Yellow card from the ref.
54' - Semedo drives the ball forward and tries a shot from the edge of the area but hits the post. Another dangerous chance.
59 ' - Luis Suarez comes on for Ansu Fati.
60' - Suarez takes on touch and shoots from the edge of the box, hits the posts and deflects in behind Cillissen. 4-1 and 30 minutes left to play.
63' - De Jong picks out Griezmann who gets a 1 v 1 but saved by Cillissen. Rebound saved by the goalkeeper for another rebound, again saved by Cillissen.
65' - Suarez with another shot from distance, saved by Cillissen. Valencia being pressured a lot.
67' - Celades bringing on Cheryshev and KangIn for Guedes and Ferran respectively.
69' - KangIn gets a yellow card for a late foul.
70' - Rakitic comes on for de Jong.
72' - Maxi Gomez is the last sub, coming on for Rodrigo. Vidal comes on for Artur.
74' - Another shot from distance, from Busquets this time, misses.
78' - Another yellow for Valencia goes to Maxi Gomez for a challenge on Lengelet
82' - Another goal for Suarez and Barcelona lead 5-1. Wass had just cleared an effort off the line but the ball finds it way to Suarez who kicks it from the edge of the box and in.
83' - Yellow for Cheryshev after a challenge on Semedo
92' - Goal for Valencia, 5-2! Cheryshev squares the ball into the box and Maxi Gomez reacts fastest to get his first goal.


FINAL THOUGHTS

Embarrassing, frustrating and demotivating but hardly unexpected. Barcelona and Chelsea are two tough games and it's a shame that the new coach has to start with those two games. Play has been sloppy for most of the game and the opposition had quite a comfortable game with many spaces and where they were rewarded even by difficult shots. Without Messi, Suarez and Rakitic for a lot of the game, and Dembele, would give the team hope initially to have a chance. But it didn't matter, Barcelona was too much even with their youth academy players starting.

Some people on Twitter wanted heavy losses to send a message to Lim. I wonder how he will take this result. It was quite painful to do this report live. I wanted to stop writing 10 minutes in.

Anyway, moving on. Next game is Champions League on Tuesday against Chelsea, away from home. Chelsea have also had inconsistent performances but won this weekend 5-2 away against Wolves. It's definitely winnable if we play like we did before. After Chelsea, we get several simpler games where we can hopefully build momentum. Hopefully we get a positive result.