Third game of the season. Not the best start so far, one draw and one loss. We've failed to show our true potential in both games. We really need a win for confidence. It is a winnable game against a recently promoted team, especially at Mestalla.
LINEUP
Mostly the same lineup, with a few changes. Rodrigo returns to start after Maxi Gomez was given a chance last game. Ferran finally gets the start we've been asking for, given his potential. Marcelino opts for Coquelin, who was suspended last game, instead of Kondogbia.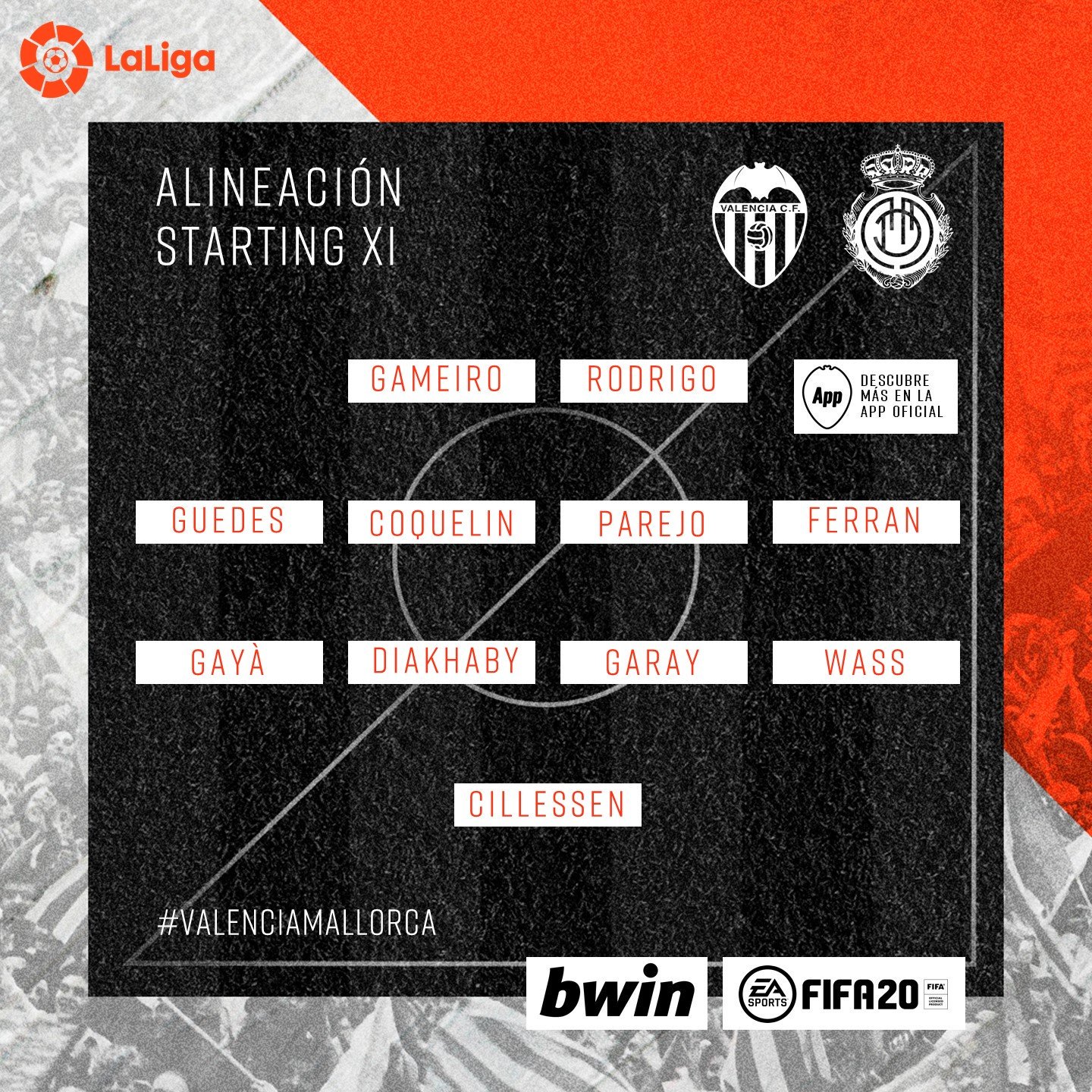 After last week's knock against Celta, Diakhaby is given a start instead of Paulista. Finally, Wass get to play in right-back with Piccini out with a long term injury (4-5 months).
MATCH
Seven minutes into the first half and Mallorca get their first really good chance. The space left by Gaya is exploited by a Mallorca player who gets picked out by a teammate. He shoots the ball towards the opposite side. Cillissen parries but only to another Mallorca player who hits the post. The ball finds a third Mallorca player who fails to hit the target. Mallorca are reacting faster.
Crowd getting frustrated after another Mallorca chance. A cross from their right just narrowly misses the run of their player who was in tons of space.
Nice one-two between Guedes and Gameiro, however the latter fails to make use of the space created by Guedes's run, curling the ball beyond the post.
Guedes earns a free kick after superbly dribbling past two players. We need more of this. Parejo wastes the resulting free kick, missing everybody and the goal.
Another close one from Mallorca, this time from their left side. Their players cuts inside given the space and takes a shot from distance to hit the opposite post.
It's 27 minutes in and Mallorca looking more like the home team than Valencia. Their players are getting all the time and space in the world to do whatever they want. Narrow margins separate them from a lead. The team needs to step it up. Crowd becoming increasingly edgy.
Parejo talks a shot from distance, 30 or so yards out, and the ball narrowly misses the post. Great effort which was applauded by the crowd. Cooling break follows.
Mallorca player also tries a shot from distance, narrowly sailing over the crossbar.
Valencia keep getting to the edge of the opposition penalty area and then run out of answers. No room to cross or shoot and often get dispossessed.
Brilliant move from Ferran tapping the ball past his marker and then blitzing past him with pure pace before quickly changing direction picks out out Coquelin, who was tripped up for a penalty. Parejo steps up. GOAL! Parejo cooly slots it past the keeper. 1-0 Valencia!
Second half. Gaya saves Valencia would an outstanding last-second tackle to deny a Mallorca player from taking a shot.
Corner for Valencia, shove in the box on Coquelin (again). Another penalty for Valencia. Parejo steps up yet again. GOAL! Parejo scores again. 2-0 Valencia. Game is going totally against us but somehow we get 2 chances out of nothing to score.
62 minutes in and Marcelino deciding to take out Rodrigo, who I don't remember touching the ball too often, for Maxi Gomez.
Second substitution at 72 minutes, Ferran off for Cheryshev. Guedes moves over to the right to make space. Ferran has played quite well in the second half. Some great dispossession, attacking moves and done his defensive duties at the back as well. Looking forward to seeing more of him this season. Cherychev already getting involved in the first play since his substitution, but his cross was gathered by the keeper.
Gomez has an effort from close range stopped by the keeper and the play stops for the second cooling break.
Last sub from Marcelino at 82 minutes. Gameiro subbed off for Kang In Lee. The youngster gets involved in the first play, intercepting a pass, and driving the ball forward past 2 Mallorca players and picks out Maxi Gomez who failed to hold his run and gets flagged offside.
FINAL THOUGHTS
Misleading scoreline. Despite being on the back-end for huge portions of this game, we still led through 2 penalties. The penalties were deserved and fair, however, the performance in general was sub-par. It didn't feel like we were playing at home or against a recently promoted team. Valencia did step it up a bit in the second half but not nearly enough.
This win did give some confidence and a chance for Ferran and Kang In to shine and show some promise. Guedes also looked good at times and often needed 2 or 3 players to surround him, shut him down or bring him down. Coquelin also had some bright moments, earning 2 penalties. Parejo, Rodrigo and Gaya, were below their usual performance.
After this game, we go into international break for 2 weeks. September 14th we return for an away game against Barcelona at Nou Camp, who will probably have Messi back at that point. They will be out for revenge for last year's Copa defeat. We also find ourselves tied on points with them after 3 games. Then 3 days later, we're away again to face Chelsea at Stamford Bridge for the Champions League. Two huge games, with some time to prepare except for the few players who will be off for international duty.
Another big point, is that the transfer window closes end of the day tomorrow. The club has recently back tracked on its statement and said that anything could happen, implying that even the Rodrigo deal is still on the table. Reports are Mendes is trying his best to facilitate this deal so he can get his pay-check. Also, the club is saying they might not sign a replacement for Piccini. Hopefully that's false as we absolutely need one. Finally, in terms of outputs, we still have Alvaro Medran, Ruben Sobrino and Salva Ruiz on the books still waiting to be offloaded. Possibly even Jason. Manu Vallejo seems to be staying.