The first away game of the season ends in defeat. Another disappointing result after the late draw last week against Real Sociedad. What was even more disappointing than the result though was the style of play, the lack of effort and passion, and the overall attitude of the team.
LINEUP
The lineup this week featured new signing Maxi Gomez, playing against his former team, alongside Kevin Gameiro. With Rodrigo reduced to a bench role, lots of speculation has risen that this could very well signal that he is on his way out.
In midfield, Parejo made his season debut after missing out last week via suspension. Kondogbia retained his spot in midfield with Coquelin being suspended due to last week's red card. Guedes played on the left and with Carlos Soler picking up a long injury, Marcelino opted for Wass to start. This to me showed a lack of confidence in Ferran. That's his spot, and he is the second choice already, this move showed us that he is actually third choice in Marcelino's eyes.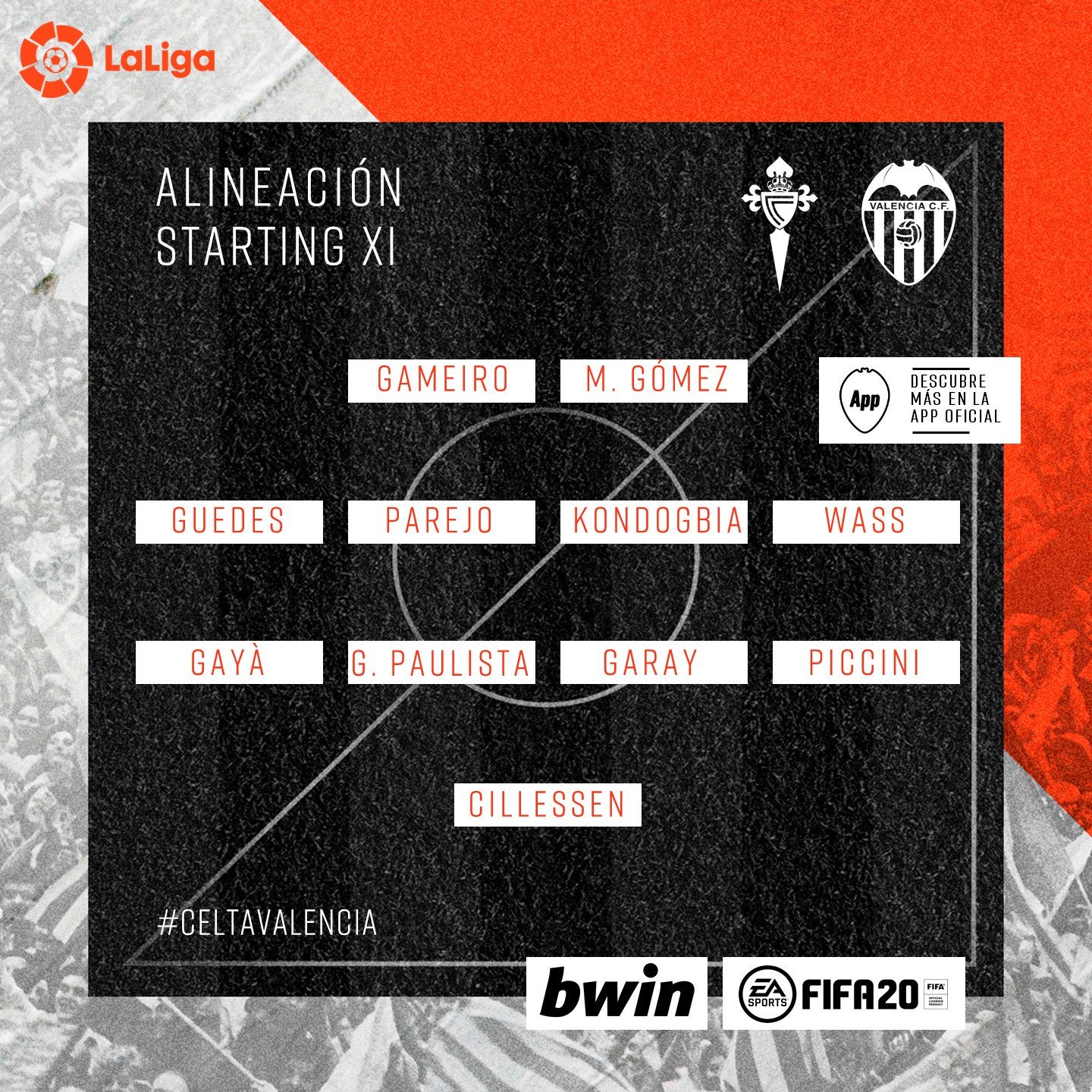 Gaya returned at left-back following suspension last week. Paulista and Garay are Marcelino's clear first choice center backs as they start for the second week in a row. Piccini gets a start after coming on as a late sub last game. And finally, Cillissen was in goal.
MATCH
The first half set the tone for the whole game. Celta were playing quick pass possession football and we were chasing the ball often. We barely had a chance all game. The stats show 6 Celta shots on-target with us getting 2. For shots off-target the stat was reversed with 6 for us and 2 for them. So that's 8 chances each and only 25% of ours were on-target.
Celta's goal came only 15 minutes in due to a series of defensive errors. Piccini was caught too deep into his own penalty box and Denis Suarez was able to exploit the space on the right. Iago Aspas picked him out and he in turn found Gabriel Fernandez who back-heeled the ball past Garay and past Cillissen into the goal. Aspas himself would get a chance a few minutes later after another defensive error but this shot was blocked by Garay.
The best chances that I remember in the first-half was when Gameiro curled the ball in from the right-edge of the box past the two Celta defenders. The ball passed in front of Maxi Gomez who misjudged the trajectory of the ball and missed it. We also had a chance from Wass after a pull-back from Guedes to Maxi Gomez who hoped over the ball to leave it Daniel Wass only for him to hit the cross-bar.
In the second half, it was more of the same. Some changes were made mid-way with Rodrigo coming on for Maxi Gomez and Diakhaby coming in for Paulista. The odd thing here is Paulista came off and lashed out at Marcelino who presumably thought he was suffering a knock and it would be safer to pull him off. Paulista was not happy about that.
We also had Ferran come on in place of Piccini, with Wass moving to right-back to make room. Ferran immediately added more energy and vigor into this team.
Our best chance in the second half was a Parejo attempt following a low-cross from Ferran. Parejo scuffed the shot and it ended up as a pass instead with nothing resulting from it.
On the other hand, Celta had shots from Gabriel Fernandez and Denis Suarez both saved by Cillissen. They also had a late penalty from Denis Suarez saved by Cillissen for his first penalty save of the season.
FINAL THOUGHTS
It's clear that the off-the-field problems are translating to on-the-field problems and affecting our game. It's 1 week from the end of the transfer market and we still have a lot of uncertainty. If Rodrigo leaves, who will come to replace him? Will we bring in 1, 2 or 3 more players? What about the exit operations, there are players that would need to be loaned or sold if we bring in this many players. Marcelino said he will only let Rodrigo go if he gets another top striker to replace him. He also said that we would have to tone back our goals for the season if he leaves. Finally, he said that if the replacement striker is forced upon him, he will take a strong stance. This presumably means he might leave in that case. And if that case does occur, where will Alemany and Longoria end up cause that undermines their decision as well.
In addition to this, we still are struggling with some of the problems from last season. Last game was struggling without Parejo and Gaya. This game was being too predictable and reserved. Some people will say this is only our second game of the season and we shouldn't panic yet. That's fair. However, there are many question marks over this season already: on and off the field. The stability that we once hoped for with Marcelino is at risk due to problems with management.
Some positives to end off. Great performance by Cillissen who had some good saves, including a penalty. As for the goal, he really couldn't see the ball with Garay standing there and even if he did get a hand to it, he could at best deflect it for another Celta player to finish. Also, Ferran brought a lot of energy in the few minutes that he got.
Next week's game is against RCD Mallorca at the Mestalla. Let's hope that a game against the home crowd will be enough to revitalize this team in a very winnable match. Of course, between now and then a lot could happen.