Valencia CF are still without a win this La Liga season, managing only 2 points from 9 in the first three games. With the amount of money spent, this is surprising and disappointing, especially in the previous game and this one where we really should've been the dominant side. However, with the performances displayed, it really isn't surprising. This was another sloppy performance, no matter which way you look at it. And no, we can't use Guedes not playing as an excuse. One player can't solve everything. Some problems in attack and breaking down defenses might be addressed but poor finishing, defensive positioning, communication, defending and passing cannot be solved.
LINEUP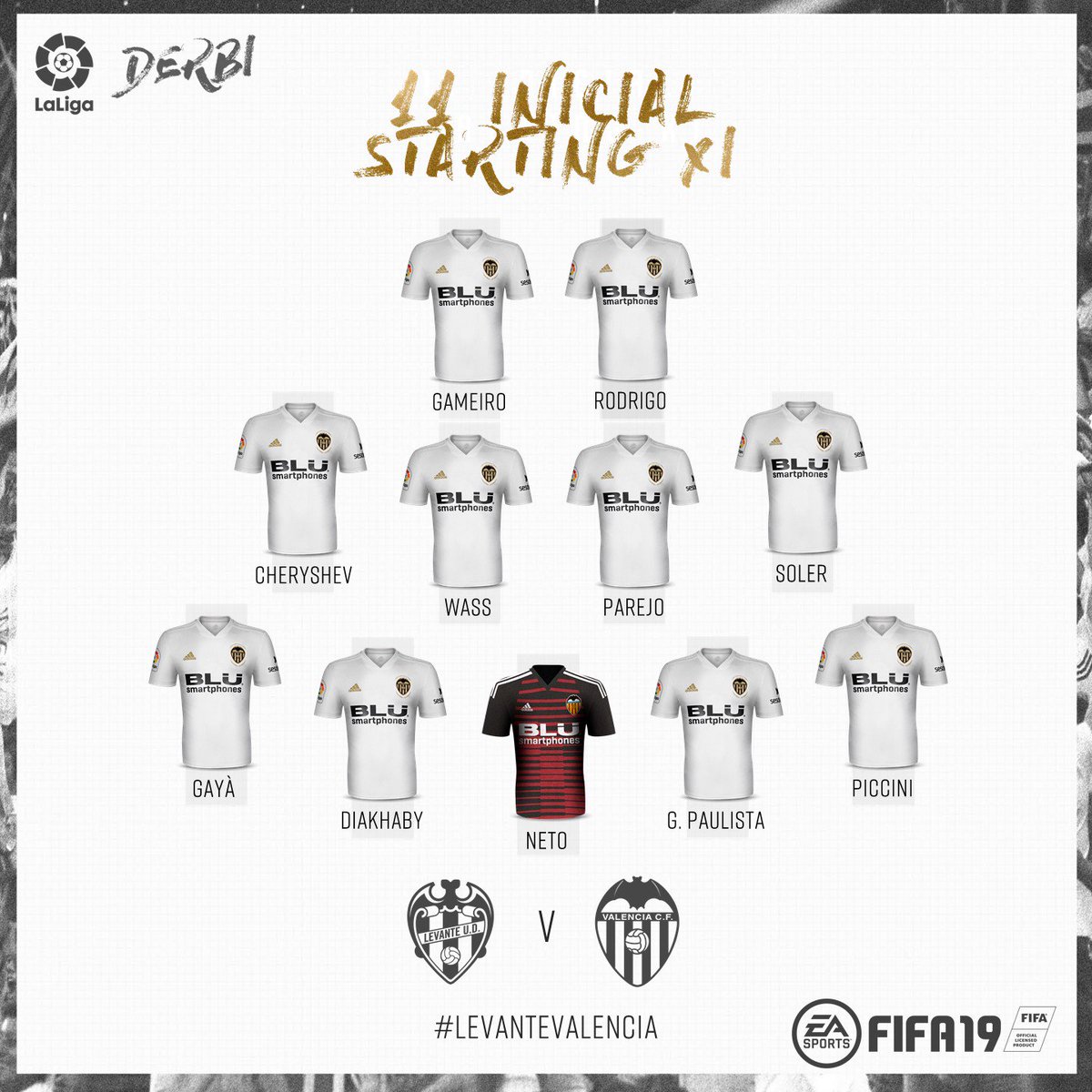 Usual formation but with a change in lineup. We all expected a change in defense after recent poor performances but oddly that was the only part, other than the goalkeeper, which remained unchanged. I don't know what the issue is with Murillo being sidelined but it's a bit concerning if it is the case. In midfield with Kondogbia feeling some discomfort, Wass slotted in next to Parejo in midfield. I was a bit concerned seeing the team sheet with two attack minded midfield players. But with Coquelin injured and Racic relegated to the B team, Wass or Soler were the only options. Soler did make the lineup again on the right with Cheryshev filling in on the left where Wass played in previous games. Guedes was not deemed ready/fit yet so he was left out of the lineup completely. Santi Mina was replaced with Gameiro after not making an impact in previous games. Rodrigo completed the attack.
MATCH
The game didn't begin in a promising way. Lots of poor passes and as a result lots of lost possession from both sides. Not the focus and mentality I expected in a game where we needed a win.
What happened at the 13th minute mark was shocking and embarrassing. I think it was a culmination of almost everything that has failed in recent performances. Parejo loses possession in midfield with a misplaced pass. Morales claims possession and knocks it past Wass who had slide in to tackle. Parejo tries the same but Morales leaves him in the dust as well. Diakhaby comes in and decides to repeat the same sliding challenge for a third time, but with the same result. Morales carries the ball forward with some pressure from Soler who had barely managed to catch up but was shrugged off as well. At this point it was Paulista and Gaya against Morales, Roger and Boateng. Gaya left his man and slid into a challenge on Morales who laid the ball off for Boateng on the left with Soler nearby just watching. Paulista just stood in the center screaming with his arms up at the linesman, presumably claiming offside. Boateng shoots and Neto saves, and it seemed like danger was averted, only he let the ball go. Straight into the path of Roger who couldn't miss from there. Piccini had barely made an effort to run back as well. 7 players and a goalkeeper versus 3 players on the break and they still manage a way through. I just couldn't believe it.
After three minutes of despair, thinking about how awful that play was from our end, some relief came in the form of a Valencia goal. It was a pretty simple progression, Wass played the ball out from the back with a ground pass to Rodrigo who picked out Soler out wide on the right. Soler then spotted out the run of Cheryshev into the space between the two defenders, delivered a cross and Cheryshev connected well and headed the ball into the net. Solid goal for it's simplicity but done with great execution from Soler and Cheryshev. It was much needed and a great way to respond.
Three minutes later still, Gaya who cut inside from an advanced position on the left to find a great run from Rodrigo with a great cross, only it was just out of reach and an almost certain goal had there been a connection.
Valencia would produce another great chance via Gaya again in the 25 minute. Gaya had made his way forward again, played Cheryshev through to the goal line where he would cut the ball back to Gamerio in space. The ball was slightly behind Gameiro and he fumbled the effort. I think he should've scored it still especially with his experience and finishing ability.
Levante would respond with a cross from the right by Roger to the center where it was headed away by Paulista, straight to Morales on the left side. He would have the time and space, under little pressure or effort from Piccini, to produce a good shot and Valencia would be saved by the crossbar. Just before half time, Neto would manage to save a free kick on target from distance.
Levante would come again 5 minutes later, now having gained the momentum. A diagonal ball from the right from Bardhi was played across to Roger who made a run in between Piccini and Paulista. They both tried to close him down but he slipped through them with minimal effort, looked up and found Neto in an advanced position of his line needlessly. He somehow got a shot across goal to the opposite side with little power but the accuracy was all that mattered. Horrible defending and keeping again.
Into the second half break where Marcelino had some time to address some issues and attempt to still win the game. He refrained from making substitutions at this point.
Only a minute into the second half, Boateng made a run out wide on the right and Diakhaby went out to pressure him, the former left him in the dust on the ground and made a run along the goal line, sent the ball into the box only to be saved by Neto.
Six minutes later, the same combo that produced our first goal would strike again. Cheryshev would cross the ball into the box from the left, finding no Valencia players. The Levante defender would try to collect the ball for a simple clean up, only he didn't see the charging run of Soler who would get in ahead of him and claim possession. The defender panics and fouls him, conceding a penalty which Parejo converts easily. 2-2.
Approaching the 60 minute mark, Cheryshev would find himself in possession out on the left again, delivers a great cross finding Gamerio in a great position ahead of a sea of Levante players, the latter would make contact but the ball hits the post. Great positioning, great cross but the finishing is off again. Five minutes later, the same combination, Cheryshev and Gamerio, with the same play, a cross from the left, only for Gamiero's header to find the post again. It just wasn't his day. All the right positioning and runs but not the finishing.
Marcelino would resort to the substitutions now, taking off both players involved in the last play. Batshuyai came on for Gameiro, while Ferran Torres replaced Cheryshev.
Ferran Torres would have an almost instant impact. Just five minutes after coming on, he taken on two Levante defenders out wide on the left, slips through between both of them with some trickery but gets taken out to avert danger. Coke, who had taken him out had already been booked and would find himself picking up a second one and getting sent off. Valencia would have 14 minutes to play with an extra man advantage to find a win.
Marcelino, now with an advantage, brings on Santi Mina for Soler, to add more fire power. Santi Mina would score very soon after coming on only to be ruled offside.
Finally, Rodrigo would get one of the best chances of the game after Ferran Torres picks him out in space at the far post, only for Rodrigo to miss the ball completely. He really had to score there.
Even with five minutes of added time, the victory would still elude Valencia despite the abundances of great chances.
GOALS
1-0 Roger (13')
1-1 Cheryshev (16')
2-1 Roger (33')
2-2 Parejo, pen. (52')
PLAYER RATINGS
Neto 1 - Mistakes like what happened with the first goal has become a more frequent occurrence and should never happen. Awful positioning for the second goal. Made one good save from a free kick.
Piccini 1 - A defensive liability. It's not just the quality of the defending, he simply makes no effort to close down or track back when possession is lost. Nowhere is sight for the first goal, completely sloppy on the second.
Diakhaby 1.5 - Was exposed far too many times. One time resulted in the first goal, the others managed to escape free of consequence.
Paulista 1 - It's really not a good sign when an experienced defender just stands around screaming and waving his arms at the linesman and doesn't act at all. That was him for the first goal. Failed to accomplish anything in stopping the second goal.
Gaya 5 - provided some dangerous attacking play that resulted in a chance for Rodrigo who couldn't reach it and the other for Gameiro who hit the post.
Wass 3 - his distribution, passing and playing the ball out from the back are all good in this position but he didn't seem to have the defensive ability that a CDM would provide.
Parejo 3.5 - poor challenge and lost possession that lead to the first goal. Good conversion on penalty.
Soler 7 - great rebound game after a sub par last one. Commendable effort to make quite the run tracking back to help the defense in the first goal. Great vision and cross to pick out Cheryshev for our first goal. Great work ethic again in claiming the ball ahead of the Levante defender and drawing in the foul for the equalizing penalty.
Cheryshev 8 - amazing performance today. Had the position and technique to anticipate and connect with Soler's cross to score the first goal. He put in several more great crosses all game, one of which lead to the penalty, while the many others were dangerous but the resulting chances hit the post or were missed.
Rodrigo 4 - remained quite involved in the plays all through the game but it was disappointing to see him miss such easy chances
Gameiro 4.5 - got in all the right positions but failed to convert any of them. Could've easily scored a hat trick today with slightly better finishing.
Subs:
Ferran Torres 6 - instant impact substitution. Gave us more than a fighting chance by dribbling past two defenders and drawing a red card foul from Coke. Proceeded to provide dangerous crosses for the remained of the game.
Batshuyai 4 - didn't really do much since coming on.
Santi Mina 4 - quick to score after coming on, only it was offside. No impact after that.
FINAL THOUGHTS
Pretty disappointing game all round. What's worrying me the most is that I am not seeing any improvements. We have the squad to compete but we're doing anything but that. That implies to be that the errors are not being spotted (unlikely since they're obvious), the players aren't responding to the criticism for one reason or the other, the changes need time, or there is a lack of belief.
I said in the introduction that Guedes can't solve everything and I stand by that. But what he can do is spark some renewed energy into the team. But the defense needs work. Major work. I don't recall ever having to give such low ratings all round in defense. And the fact that we have two ready and able defenders just sitting on the sidelines and not being tried is worrying. If Marcelino trusts these two over the other ones and these ones are performing this poorly, how bad must the other two be?
That being said, the offense has some rays of hope. Soler and Cheryshev put in a great effort and together rescued the team from a loss by setting up the two goals, both after having fallen back by one. Ferran Torres had a promising appearance off this bench, while both Gameiro and Rodrigo were on the verge of a goal fest albeit the finishing let them down.
Hopefully, getting Kondogbia back and a Guedes return in the second game can do something for the confidence of the players at the very least. Both our next matches are at home so that should further instill some belief and confidence. The good thing is we have a lot of time to fix things. Our next competitive match is on the 15th at home to Betis and the following is the first Champions League group stage game, also at home, against a tough Juventus side. In addition, our next game is a friendly on September 5th, against Segunda B side CD Alcoyana at 20:30 CEST (14:30 EDT), so we have a great chance to test out some changes and maybe give some players a run out into fitness. That being said, it is also the international break, until our next La Liga game, so only those not called up will be available to Marcelino.
As usual, let everyone know your ideas, thoughts and comments about the game in the comments below. What's the issue with the defense? Who impressed? Who disappointed?