A disappointing away game after a promising start to the season. Valencia came into the game on the back of a great opener against a tough and well-drilled Atletico Madrid team where a 1-1 draw was less than what they deserved with the number of chances created. Espanyol also came into the game with a 1-1 draw away to Celta Vigo. We were the favorites to win on paper but it didn't matter in the midst of many mistakes committed, especially in defense. The mistakes were punished and we truly didn't deserve a win today.
LINEUP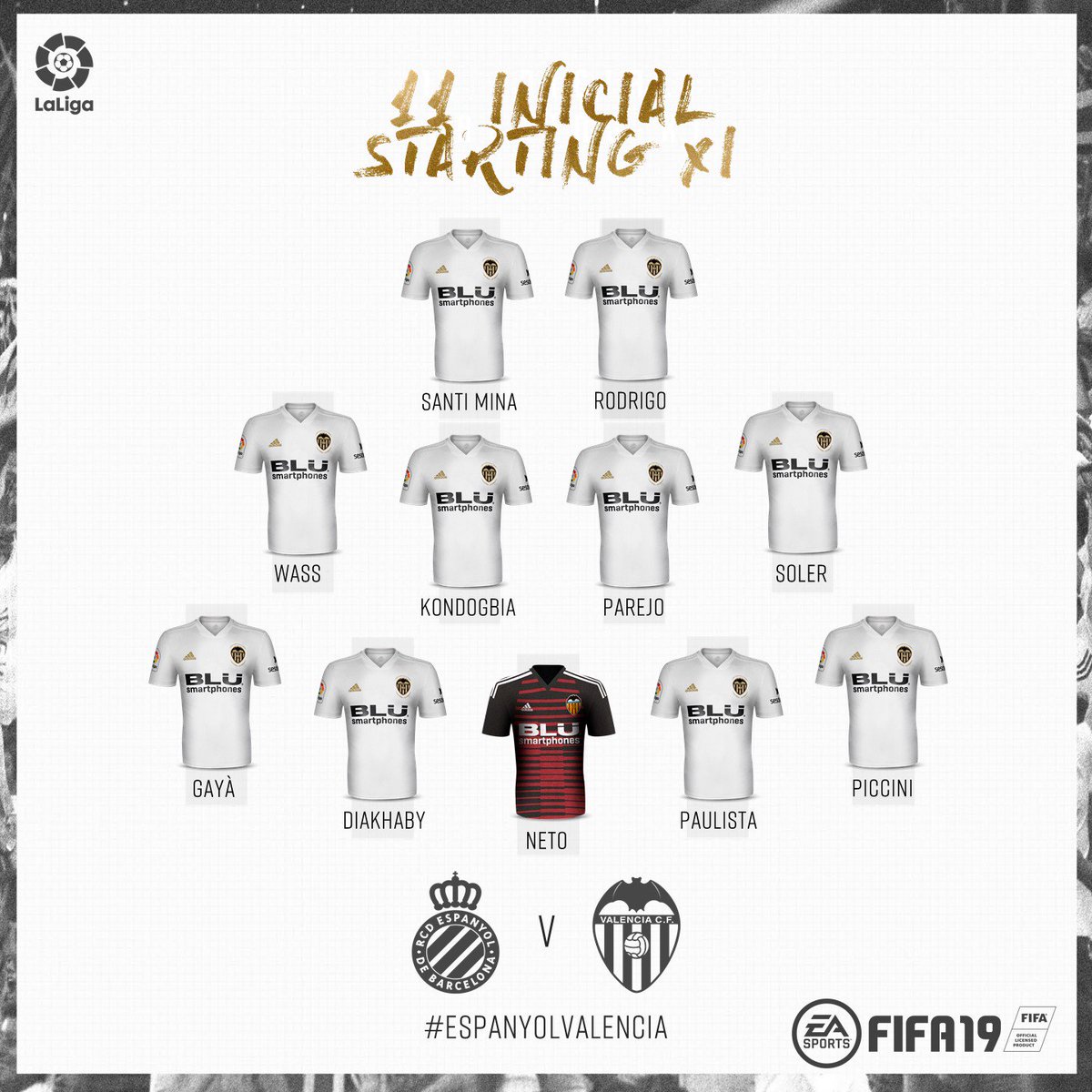 Nothing new in terms of formation, still and probably always will be 4-4-2. The lineup remained unchanged from last game minus Garay who is sidelined due to injury with Diakhaby favored as the replacement by Marcelino. According to Superdeporte, Marcelino finds him really promising and is impressed with him. This is already starting a bit of debate with regards to the CB position. It's good we have 5 to choose from to maintain competition.
MATCH
The first ten minutes of the first half featured very quick and aggressive pressing from both sides. Any possession was quickly close down and some fouls were made.
On the verge of 10 minutes, the Valencia half chances would come in. Wass heads a long ball coming from midfield towards Rodrigo in the box who broke free from his defender but couldn't make contact with the ball as it was too far ahead. Two minutes later, it would be Gaya making a forward run and finding Rodrigo with a cross and the latter made contact with a header but it wasn't enough to beat Diego Lopez. A few seconds later Santi Mina, would try a wild effort from range but would miss the target.
The 17th minute saw the first real chance at goal for Valencia. Piccini would play a nice through ball into Soler's run. The latter would then dribble past an Espanyol player to the goal line and pull the ball back for Santi Mina whose shot was blocked by a defender, more specifically the defender's arms. This sent the players and Marcelino in hysteria and demands of a VAR check. The VAR officials dismissed the claims in a minute or so much to the dislike of the players. At first glance, the distance between the player's hands and the ball was too small to get out of the way and it was a case of ball to hand rather than hand to ball. However, the last factor is intent and I believe it was totally intentional. There is no way anyone tries to block that shot with their head. The player wanted to get his body in front of the ball and he didn't care whether it was his arms or not. My biased opinion is a penalty for intent, the ball was going into the net had he not done it, but it is what it is.\
Espanyol's first threat would come on the stroke of 32 minutes when Javi Lopez crossed the ball from the right into the box to find Sergio Garcia who would send a strong header towards the goal, only to be denied by the crossbar. The rebound would fall to Iglesias who would send another header towards goal but the shot was cleared off the line by a reflex save from Neto. Espanyol players insisted the ball crossed the line but VAR would quickly and correctly dismiss the claims. Great save by Neto, but static defending by Paulista who just let his man go for the first header. Piccini was also a tad bit slow and his positioning in question. A minute later, Espanyol would sent a volley from range to be again denied by Neto.
Valencia would respond in kind with a wonderful chance. Gaya found himself in a deep position in midfield and found Rodrigo who played a brilliant through ball for Santi Mina to the left of goal while the former made his way into the box in anticipation of a return ball. The return would come only for Rodrigo to fire straight at the keeper from point-blank range. Disappointing finish to a great move. Chances like that need to be taken.
Into the second half, 50 minutes into the game, a half-chance from a Diakhaby back-heel via a Parejo corner was cleared off the line by an Espanyol defender. The counter attack resulting for the clearance saved in turn by Neto.
Valencia would fall apart in the 60-70 minute time period. An Espanyol player moved out of the way of a teammate's shot only to expose Diakhaby to the shot. He parried the ball with his forearm and conceded a free-kick as a result. The kick was taken by Granero and was unstoppable to the right of Neto, off the cross bar and just in. Nothing that can be done to save that.
Marcelino would bring on Cheryshev for Wass and Gamerio for Santi Mina, who had faded from the game in the second half. Later, Piccini would get caught out of position having drifted towards the center by a long ball from the back from Espanyol, he would go to ground at the slightest contact with the attacker, only to get up again and the danger averted. A minute later, he would get caught the same way, out of position again, he would attempt a sloppy clearance only for Baptistao to get a free run on goal. Paulista and Diakhaby both frozen, one former claiming offside the other just static. The shot would be saved by Neto only for the Iglesias to capitalize on the sloppy defending and react first to bury the ball in the net. Atrocious defending by 3 of the four players.
Marcelino would attempt to change the game by using his final substitution, Batshuyai for Rodrigo but to no avail, the lead was too great and we didn't create very convincing chances.
GOALS
1-0 Granero (62')
2-0 Iglesias (68')
PLAYER RATINGS
Neto 8 - great job today. A quick reflex save in the first half, with a few other easier saves, could do nothing about the free kick and another great save to deny the first attempt from Baptistao only for the defense to let Iglesias have a free shot on goal for the second goal.
Piccini 1 - disaster all night and atypical of him, he can do much better. Lost possession way too many times on the way forward, got caught twice in the same fashion out of position, the first time he got away with it and was severely punished the second time only a few minutes later.
Diakhaby 3 - I'm on the fence about him. At times I see a quick yet strong defender who cleans up well with great tackling ability, at other times I see him get distracted and loses concentration as with the second goal leaving his man go free. Had a decent effort on goal with a back-heel.
Paulista 3 - The more experience of the two central defenders but got caught up claiming offside and let Iglesias go free. He probably expected Diakhaby to cover but I think he could've reacted quicker.
Gaya 6 - did well going forward, getting some dangerous crosses in, especially the one for Rodrigo but it couldn't be converted.
Kondogbia 7.5 - strong presence in midfield to make key interceptions and tackles. I still feel the attacking aspect of his game that we saw last season is missing.
Parejo 6 - decent performance, especially compared to his prior game where he was brilliant. The passing work was good, the defensive work ethic not so much.
Soler 4 - Second game in a row where he doesn't look too sharp. The passing was sloppy and the shots were just as bad. Might need some time on the bench to motivate him.
Wass 5 - balanced offensive and defensive display. Not as big a threat as he was last game but caused some trouble here and there.
Rodrigo 6 - when you get a chance that good from the Santi Mina pull back, you need to convert especially at that range and at this level. Caused plenty of trouble with his runs, passing and dribbles but nothing tangible to show for it.
Santi Mina 5 - very involved in the first half of the game and even set up a wonderful chance for Rodrigo, faded away in the second half.
Subs:
Cheryshev 5 - maybe should've been brought on earlier and for Soler rather than Wass.
Gamerio 5 - created 1 or 2 decent chances, but nothing to show for it
Batshuyai N/A
FINAL THOUGHTS
It's a shame we couldn't get the win. Away games are usually a struggle but the defending was the Achilles heel today. It was simply atrocious. Also, we are really lacking a player than can take on defenders and beat them or at least pull them away to create space for others. That's where Guedes fits in. However, having Guedes or someone similar won't fix the defensive problems. I expect to see Murillo in the next game after these two games of experimenting. This was the worst I have seen Piccini at, he seemed to have lost all focus, losing possession, caught out of position in quick succession and sloppy clearances and I saw Marcelino yell at him at least once. I have no doubt Marcelino will address this because it was clear for everyone to see the defense was terrible. On the other end of the field, Rodrigo was less clinical today and should've really scored that one chance. With all these mistakes, I don't think the claim for the penalty that I mentioned in the beginning would be a valid excuse or save the team from criticism.
Next week Sunday, is another away game and a derby at that, against Levante. We simply need a win. We need the confidence boost of having a first win in the season. Although Levante would be the least challenging opponent so far, on paper, we can't take any chances and it IS still a derby so it should motivate the players and a win would do well for the confidence.
Finally, the transfer window closing date and Champions League group stage draw are this week, Friday. So stay tuned for any new transfers as well as our group stage opponents.
As usual, let everyone know your ideas, thoughts and comments about the game in the comments below. Was the VAR correct to not give a penalty for Santi Mina's blocked effort? How should we lineup in defense? Who impressed? Who disappointed?