Here we go, the big game is upon us. The team has a chance to reach heights that haven't been attained for a while - the Champions League Knockout Stages.
The team could not secure qualification in the last matchday, although they were very close. The 2-2 draw against Chelsea at Mestalla was a game where the scoreline could not possible tell the whole story. The chances came and they fell exactly to the players that they wanted them to fall to but it just wasn't to be. Those misses cannot be repeated here.
Ajax has beaten Valencia in the previous leg of this fixture earlier in the season. The team suffered a 3-0 loss at Mestalla, and that one was a game to forget. However, this is not the same team anymore. Celades only had a few games under his belt and not enough to time to gel with the team and implement his ideas. I think a win is a realistic goal, although the team will have to work very hard to get it.
Ajax come into this game with a 0-2 loss at home against Willem in the Dutch Eredivisie. They had dominated the possession that game but did not make the most of it. They played a day before Valencia did against Levante so they had an extra day of rest. The previous Champions League game saw Ajax win 0-2 away from home against Lille. That win leaves them top of the group table at 10 points from 5 games.
Valencia's weekend had the team play in a local derby against Levante. They had fallen two goals down in the first 20 minutes of the game and it was looking like a disappointing game. Aided by a late own goal at the end of the first half and some half-time change in ideas, they found the strength in the second half to score 3 more goals to secure a comeback and a 2-4 away win. In the Champions League, the 2-2 draw against Chelsea in the previous game leaves Valencia tied with Chelsea at 8 points. With the tiebreaker considered Valencia is currently second and would qualify.
All that is required is to match or surpass Chelsea's result since the tiebreaker favors Valencia. However, Chelsea have Lille at home and Valencia has Ajax away from home. The focus should be to go for a win and not worry about the other game. Go with the mindset that Chelsea will win their game and if they don't that's a bonus.
Ajax Champions League form: WWDLW
Ajax League form: LWWWW
Valencia Champions League form: WLDWD
Valencia League form: WWLWW
LINEUPS
In the last game against Levante, the team had recovered Diakhaby from injury but ended the game by losing Cillissen to injury. He misses this game. Garay is suspended from this game for yellow card accumulation. In training, there was more bad news as Maxi Gomez also fell to injury. This takes one of Valencia's top scorers out of this game. It will make the game harder no doubt. However, with Gameiro playing in good fashion last game, we have a good replacement.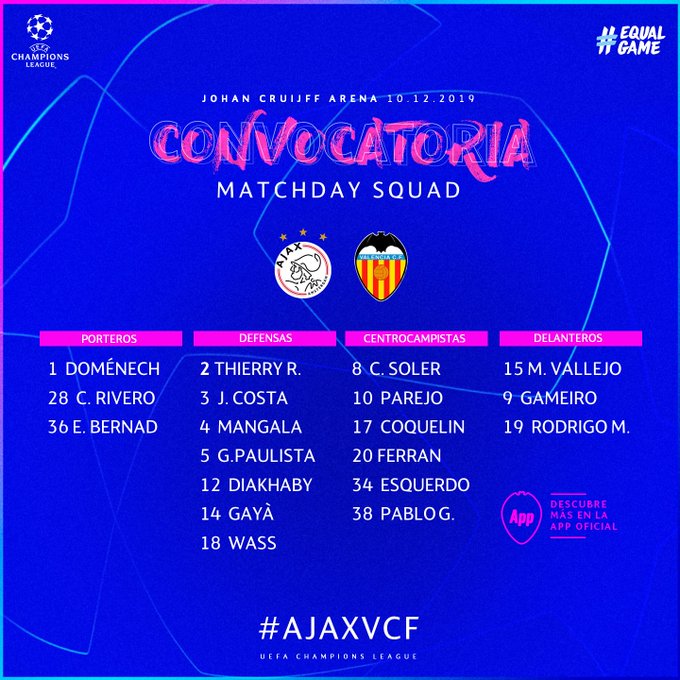 Rivero is promoted to 2nd goalkeeper for the game and Bernad is called up as 3rd. In defense, Mangala returns to cover Garay's absense. Esquerdo continues to feature in the squad list and is joined by Pablo Gozálbez to complete the squad numbers.
*Starting XI and match details will be updated when available.