The fourth competition for the season begins for Valencia in Wednesday's fixture against UD Logro
ñé
s. With the new format of the competition, there is only one leg, meaning the winning of this match goes through to the Round of 16. Valencia come in as the reigning champions to defend their title.
The result of the new format is that Valencia will probably field a better squad than what they would do otherwise. Instead of providing a rest opportunity for the main squad and some game minutes for the bench players, this is just another load onto the main team to take on. It must also be said that its another opportunity for players to get injured in a season already riddled with injuries. As the team moves into the crucial part of the season, these cannot be afforded.
Logro
ñé
s plays in the Segunda División B of La Liga. While this would be a simple game for many other team, recent results indicate that there could be a tricky game. Fixtures against Eibar and Valladolid who are closer to the bottom of the table proved challenging with tight scores. Just 3 days ago, humiliation against RCD Mallorca, a relegation side, with a 4-1 scoreline.
This competition always draws mixed responses, some people, including the owner himself, simply do not value this competition (at least according to Marcelino). They would rather efforts be focused on the main sources of revenue and prestige – La Liga and the Champions League. Extra-time and penalty shoot-outs are also possible in this competition, adding to the exhaustion and could result in a tired squad for an important weekend fixture against Barcelona. Others want Valencia to be competitive in all matches, to have the mentality of a big team and believe they can win it all. Regardless of which camp they're in, I think most would be upset with a bad result here.
While Valencia suffered a 4-1 defeat away from home in their last game, Logroñés pulled off a comeback away from to Haro scoring two goals into the second half to win the game 1-2.
Valencia form: LWDDW
SQUAD
Garay is available for selection, having missed last game with an ankle injury. Hopefully, his reintroduction provides some structure back to a defense that was largely absent the previous game.
Rodrigo remains in recovery with the goal to play in the weekend match against Barcelona.
Paulista and Kondogbia are missing from the squad list due to suspension from accumulated bookings in the last season's Copa del Rey. This leaves room for both Mangala and Esquerdo in the squad as their replacements.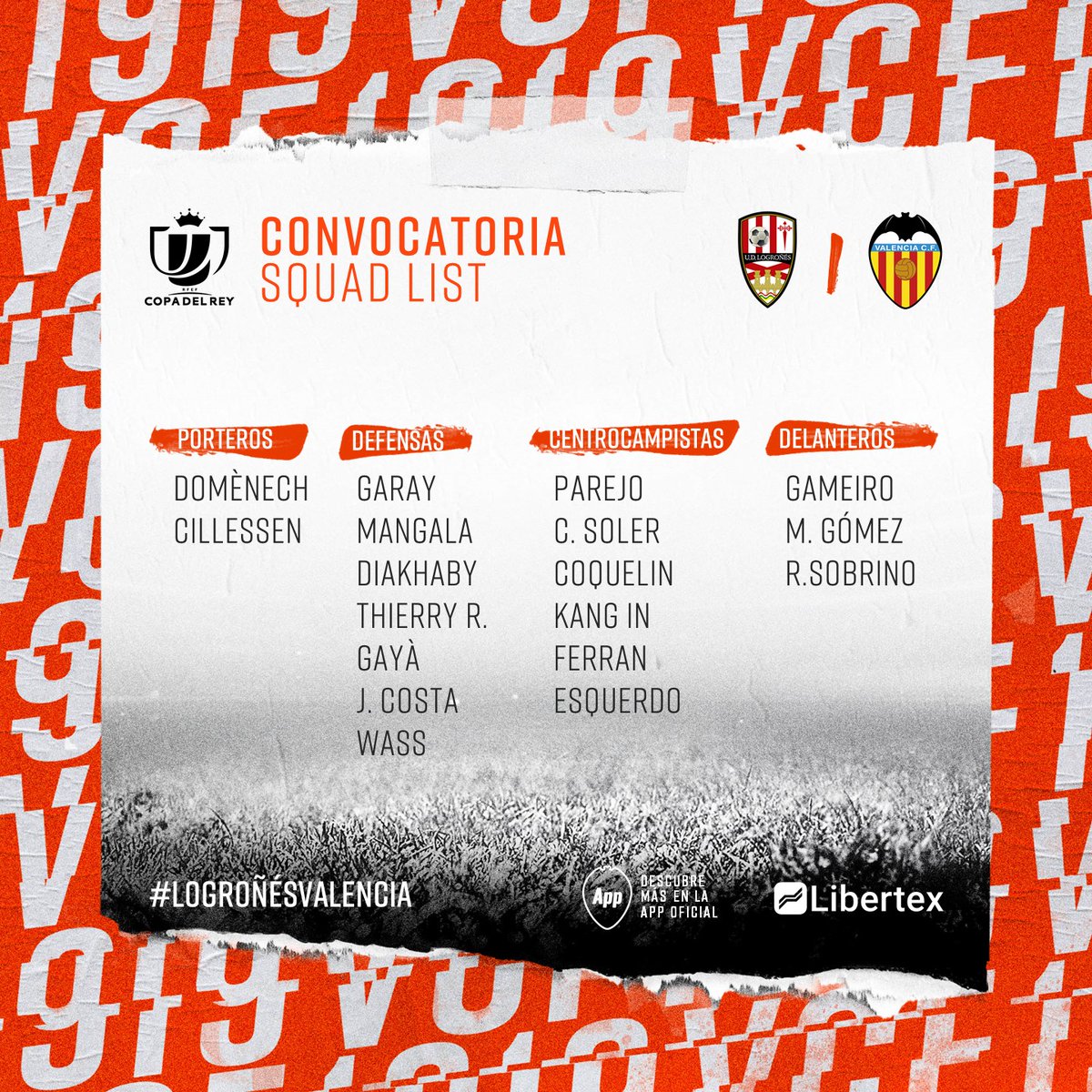 ***Starting XI and match details will be posted when available.